July 17th to 19th 2022, London, England
On what was forecast to be the hottest weekend in British history we were waiting for the train to take us to London.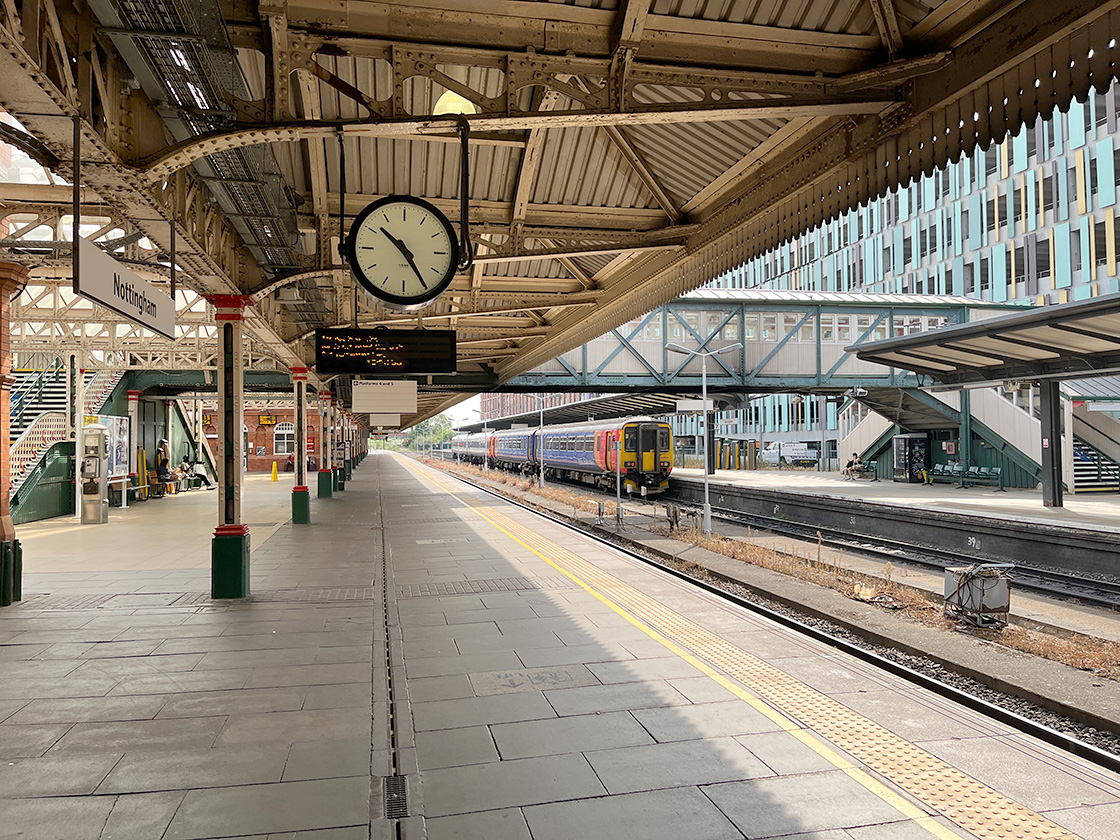 After a couple of failed attempts, mostly COVID related, we had finally managed to book the vouchers our friends had so kindly bought for our 25th Wedding Anniversary over two years ago. The fact we were travelling down during a record breaking heat wave wasn't a consideration when we arranged this earlier in the year.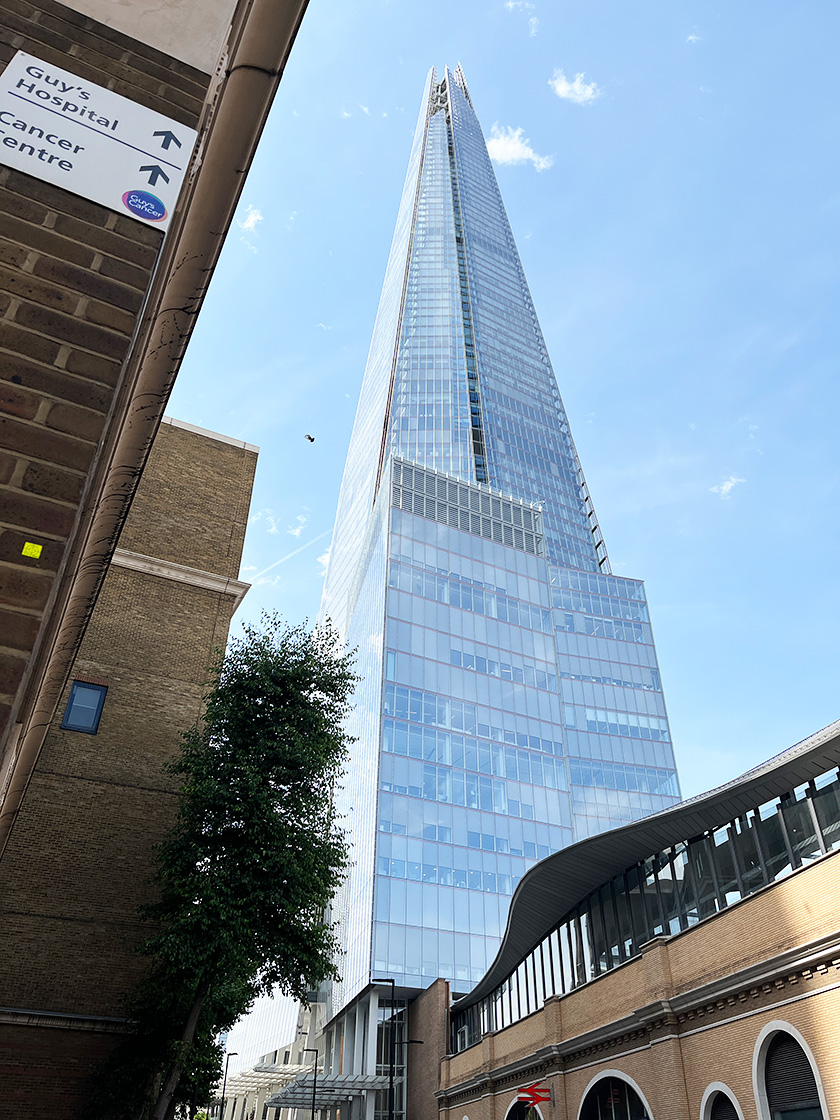 The first of those vouchers entitled us to a view from the Shard and having dropped our stuff off at our hotel it was just a 10 minute walk to the 310m tall Shard.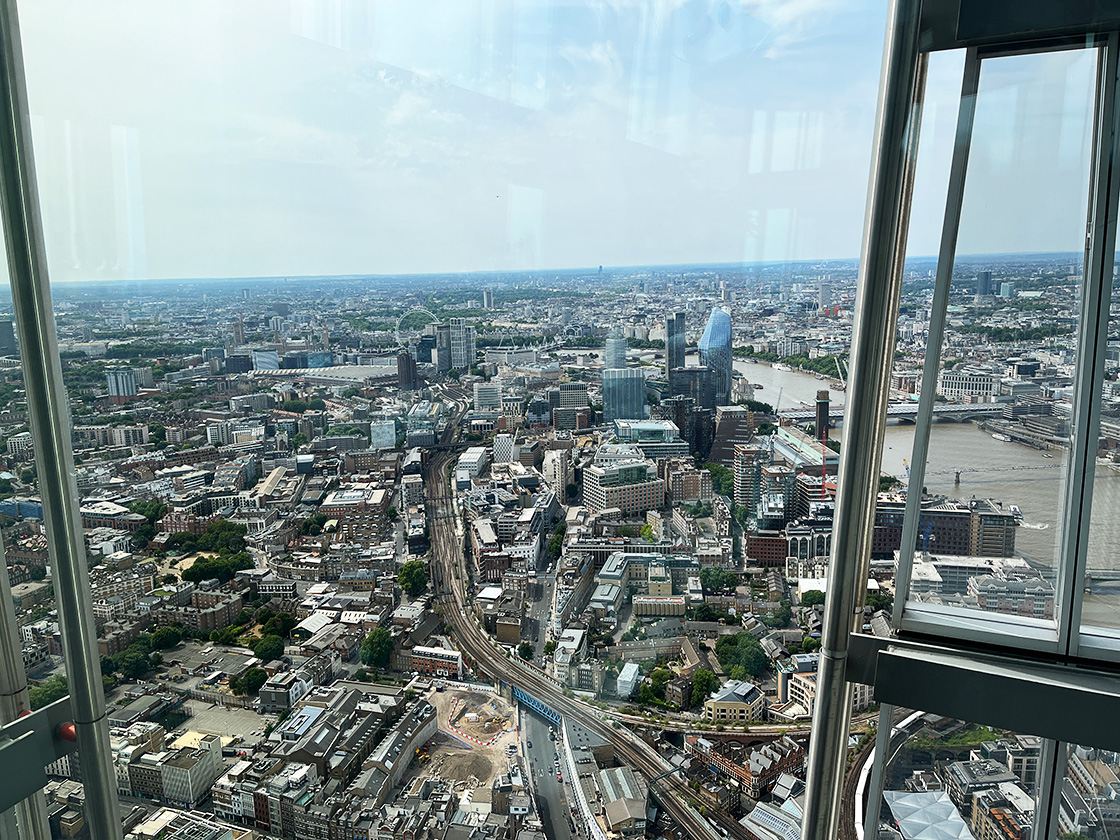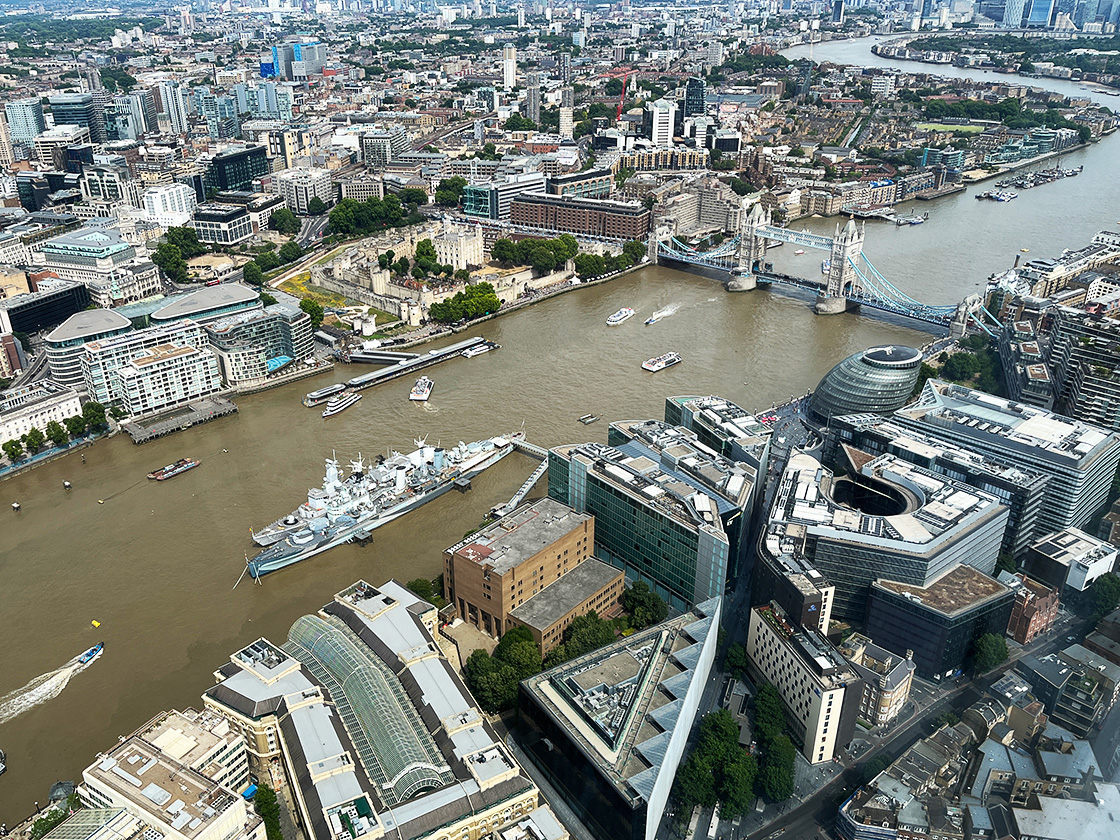 A speedy lift takes you to the 68th floor to an impressive 360° view of the City of London.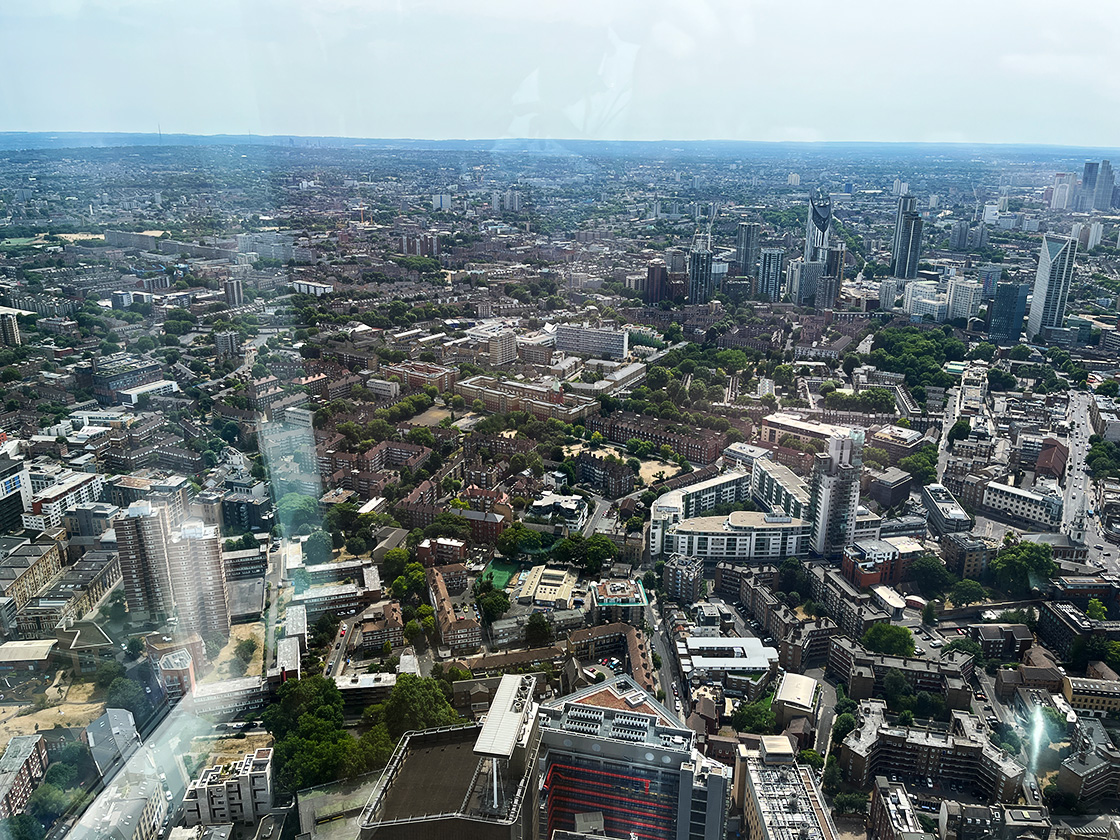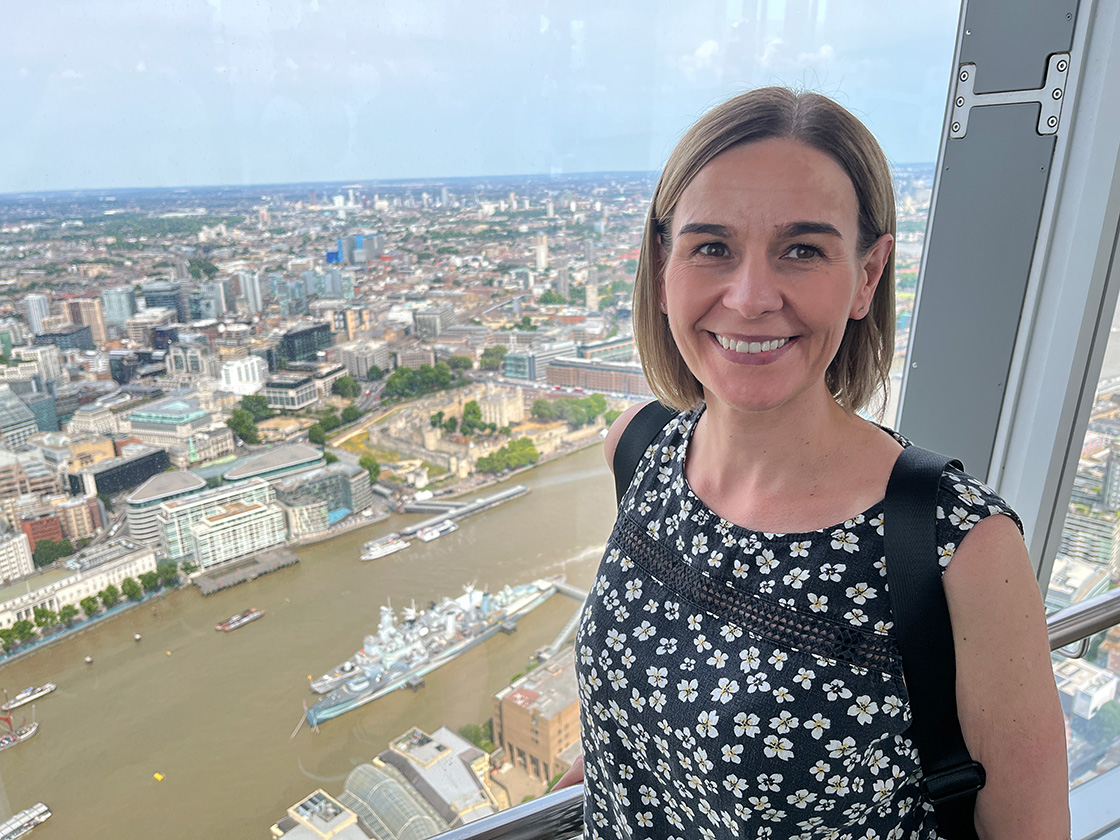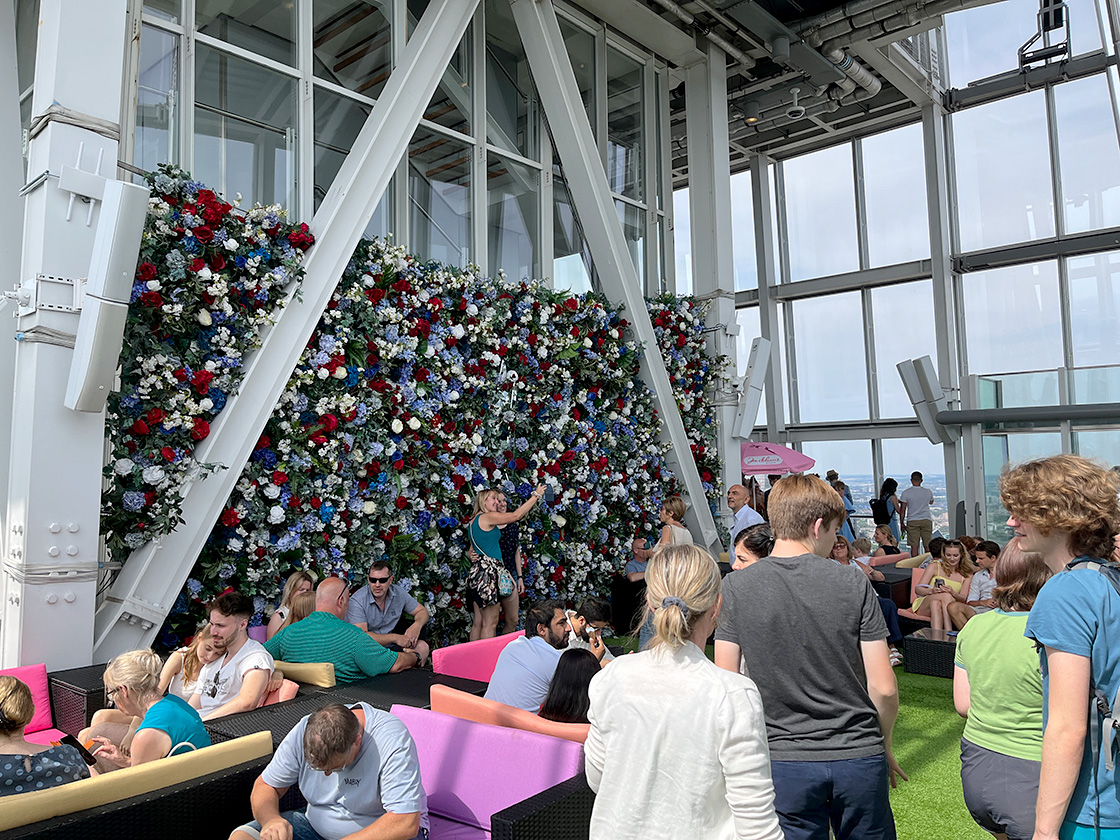 From there you could walk up a few more steps to the sky deck on the 72nd floor.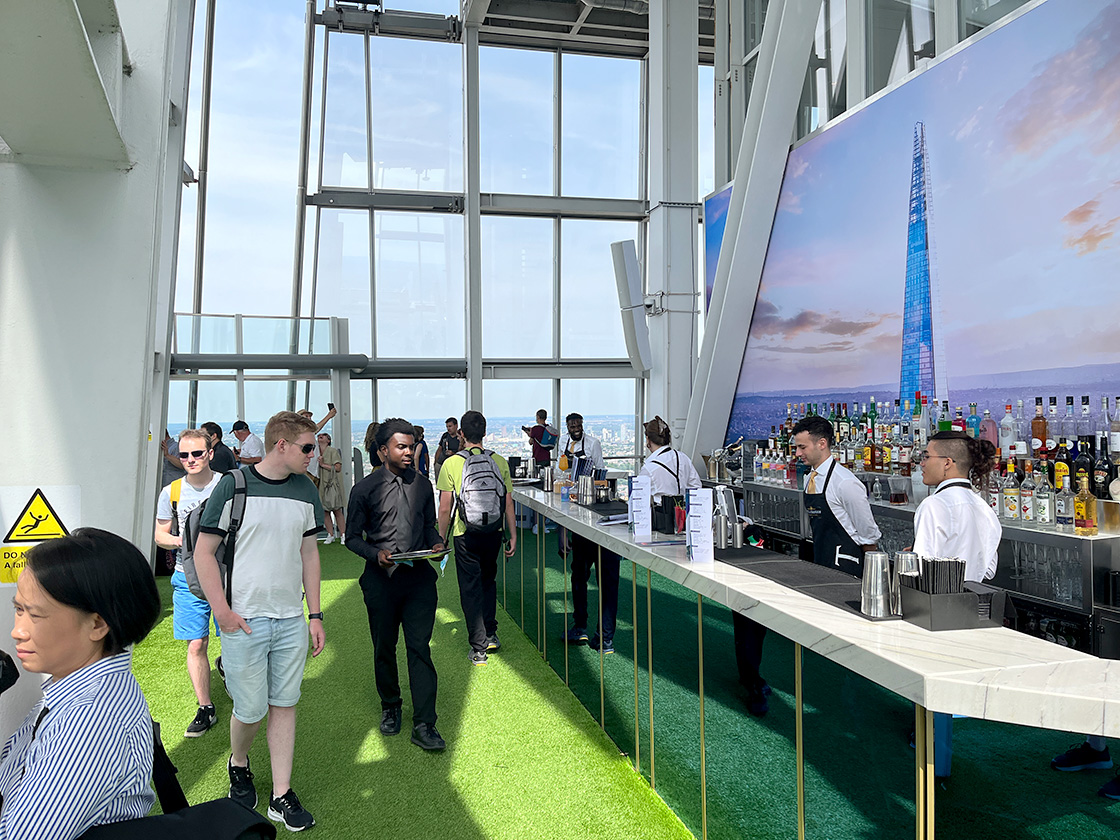 Here was a conveniently placed bar and we decided to have a drink. As you could imagine, this being London and the bar being 245m off the ground the wine was quite expensive though ,surprisingly, the beer was not.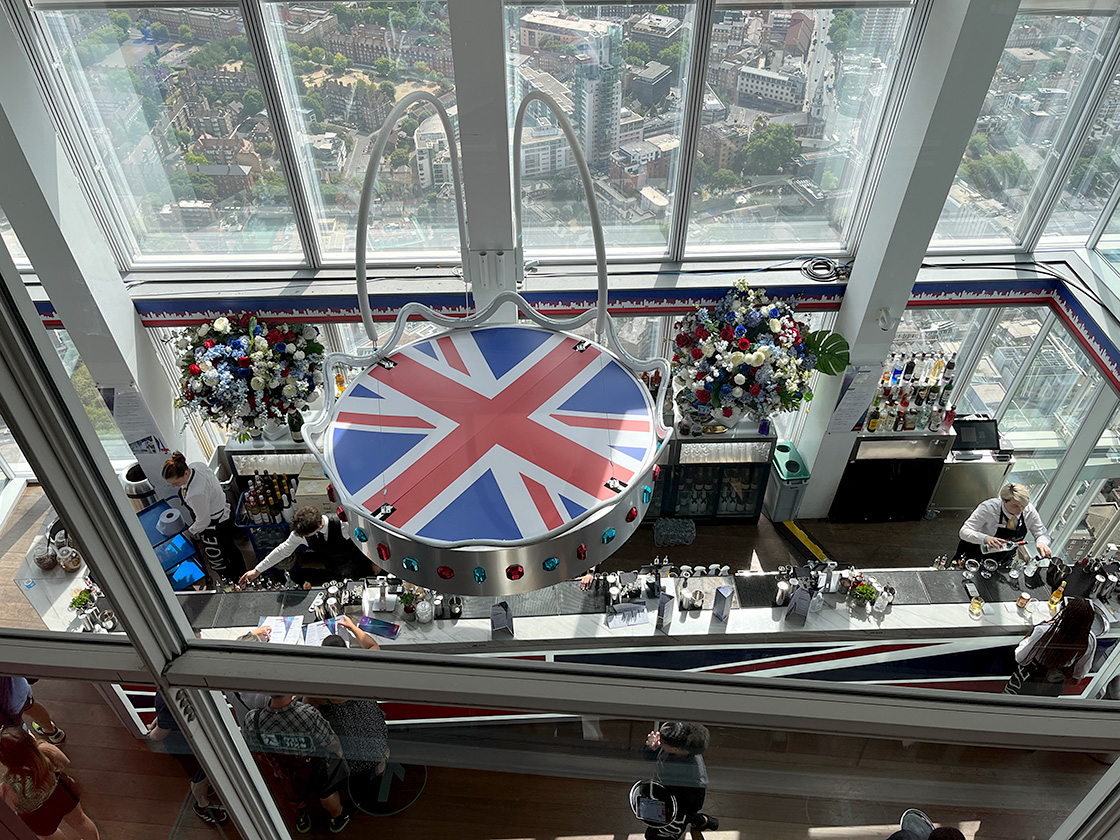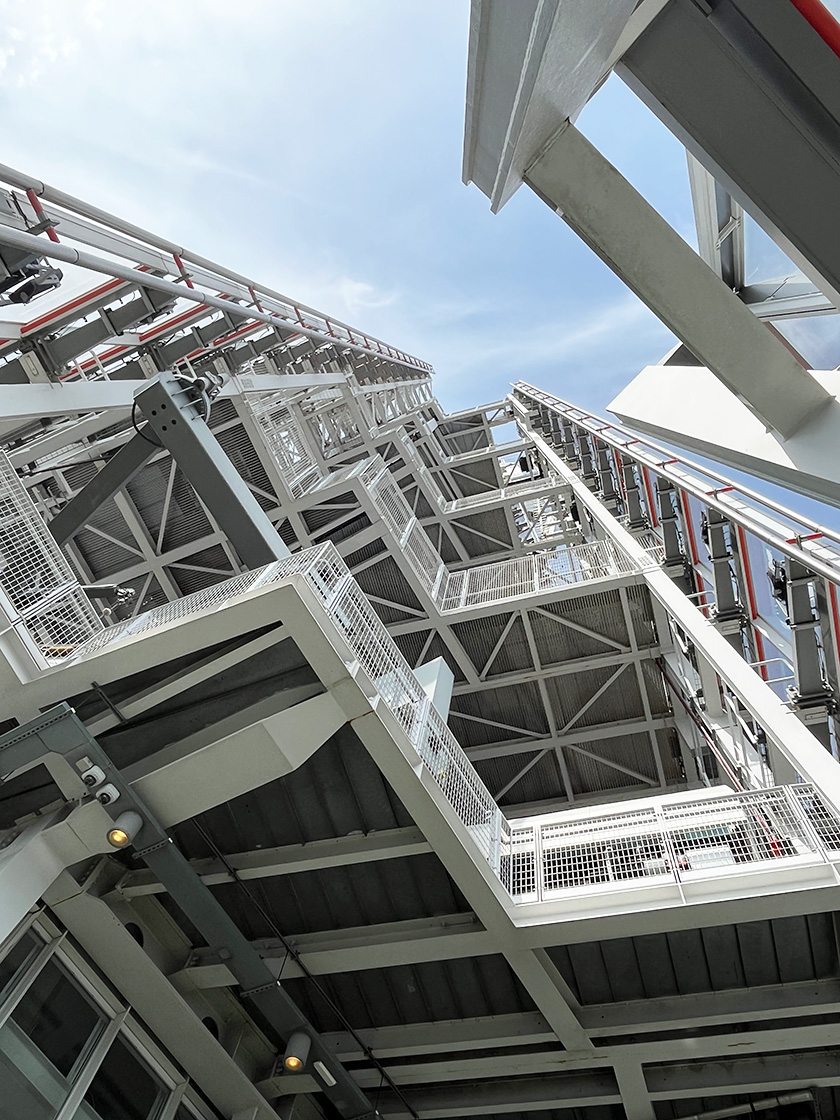 What I didn't realise is the Sky Deck was exactly that. It was open to the elements though there was absolutely no chance of anything other than hot sunshine occuring whilst we were there.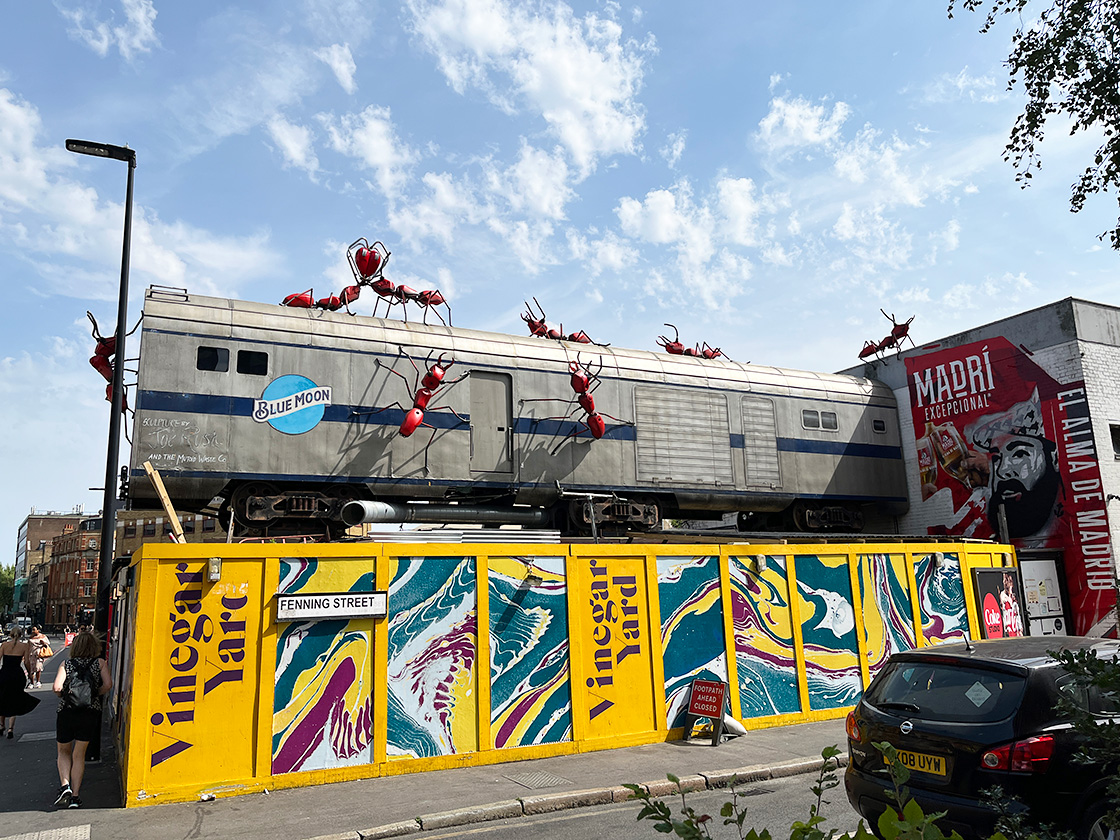 Back on the ground we had some time to kill before we would make use of our second voucher, a three course meal for two with bubbles at Galvin La Chapelle's later that evening.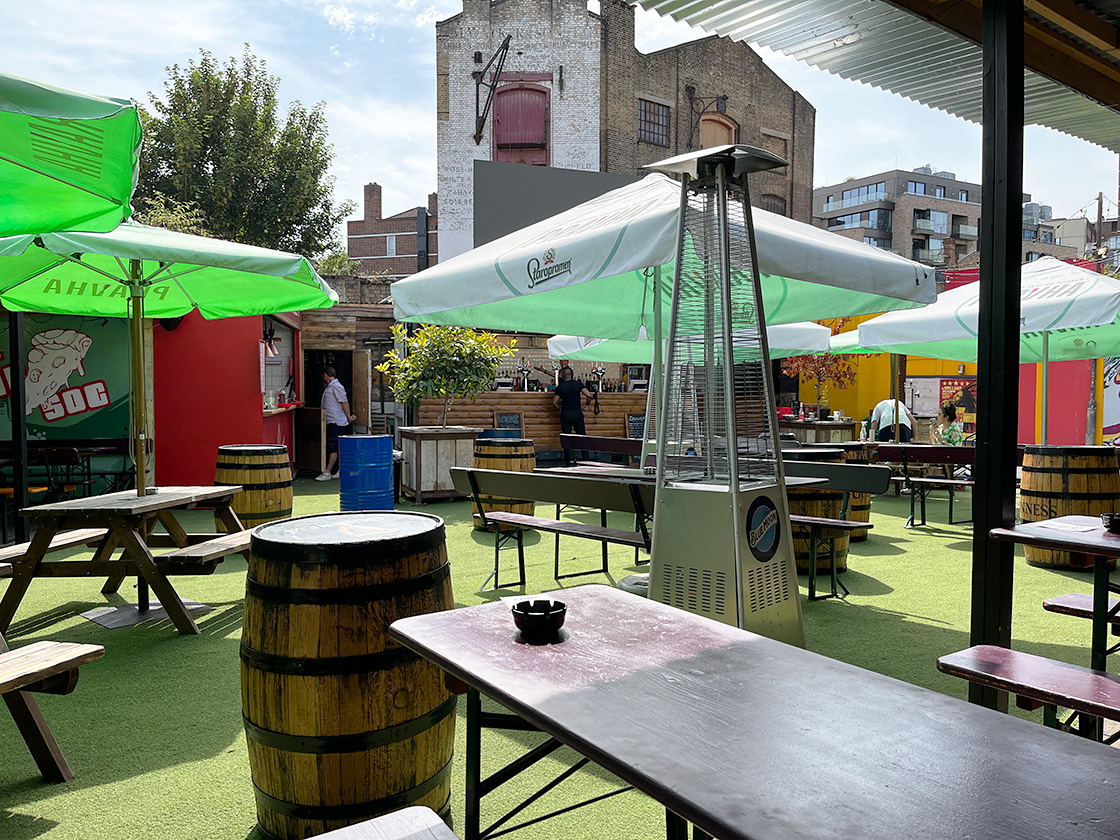 So what better way to pass the time whilst waiting for your evening meal by having a relaxing drink and a very nice pizza at a place just down from the Shard.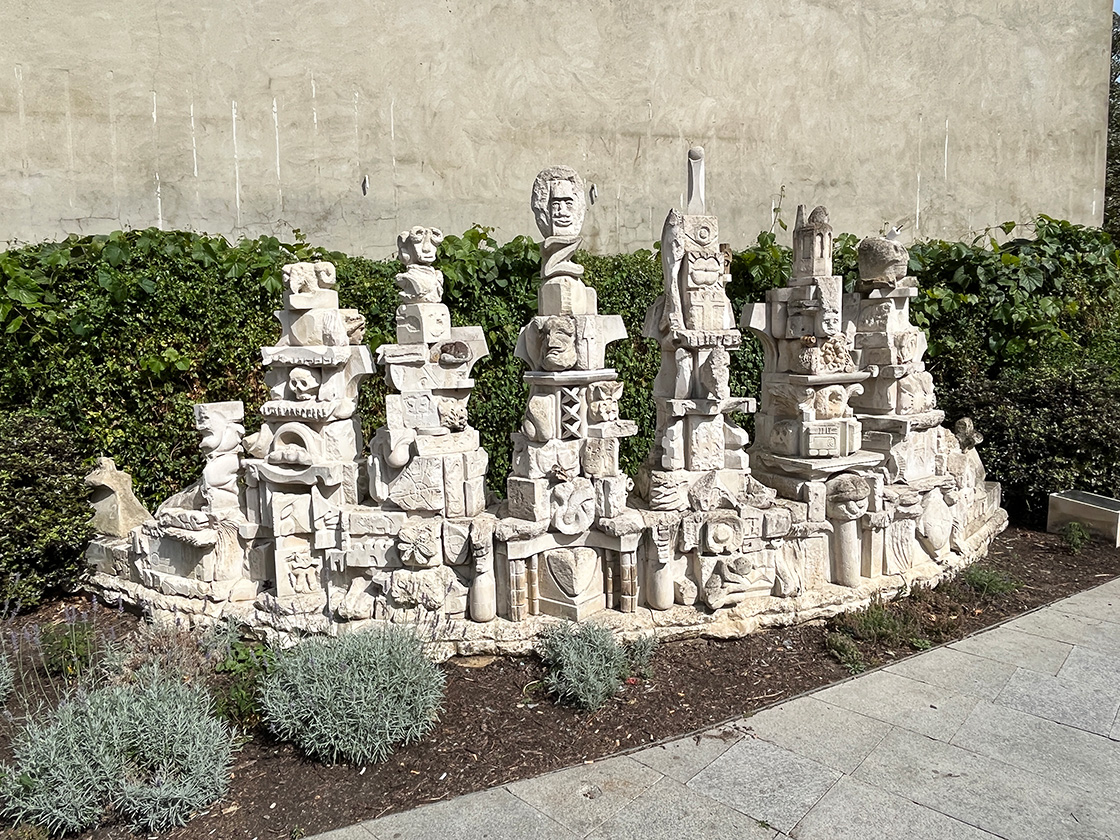 Pizza eaten we headed back towards our hotel to get ready for our evening meal.
From our hotel it was a 15 minute Uber ride to Spitalfields the location of the Michelin starred Galvin La Chapelle.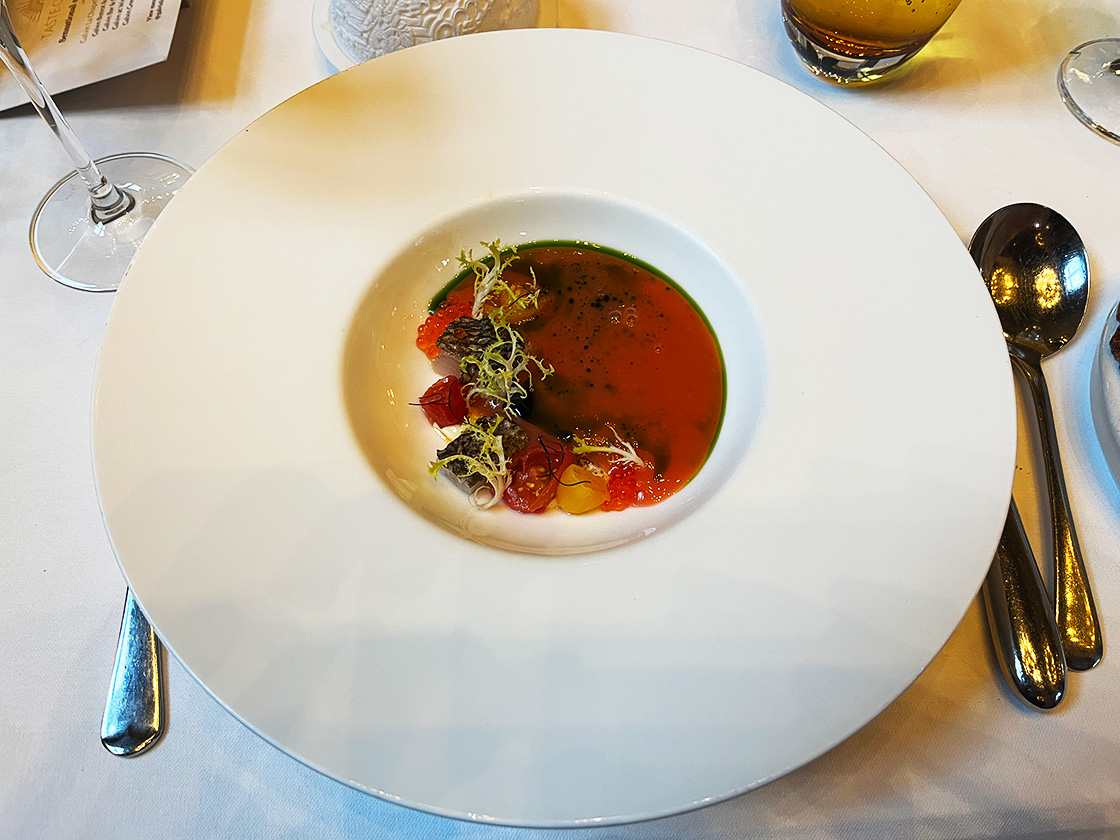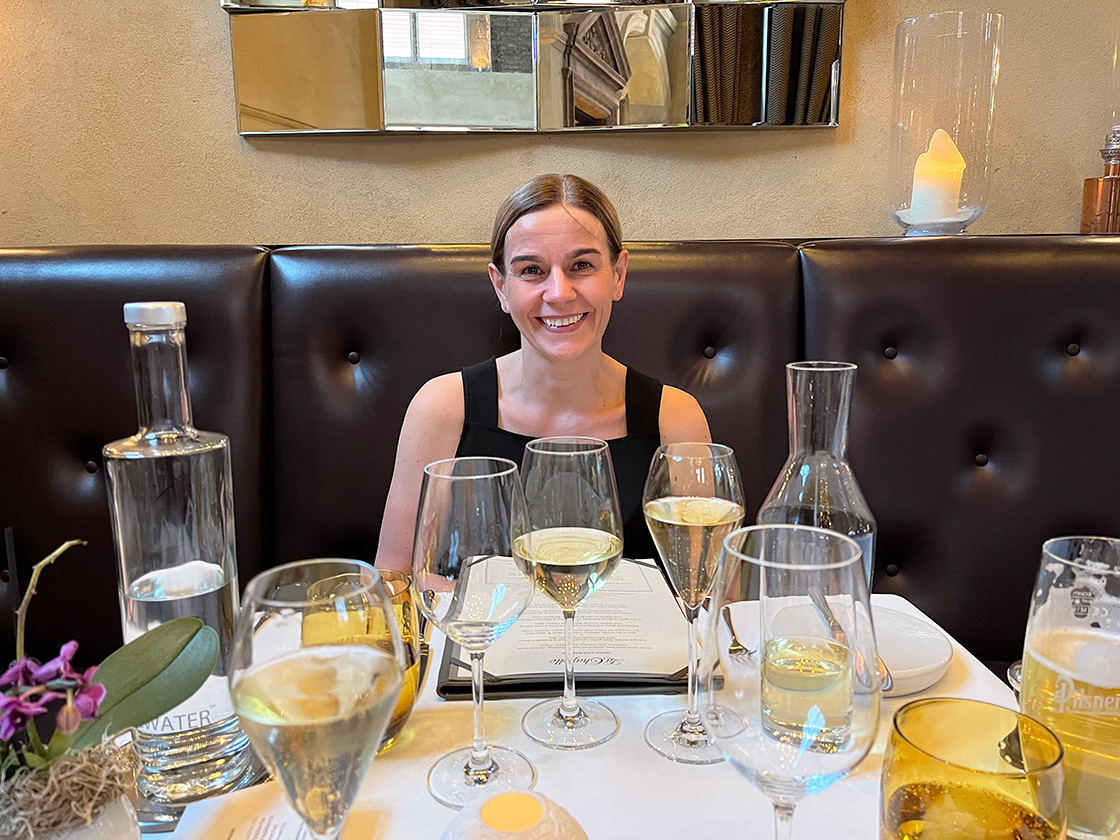 Though restricted to a choice of only two different items per course all the food we were served was excellent.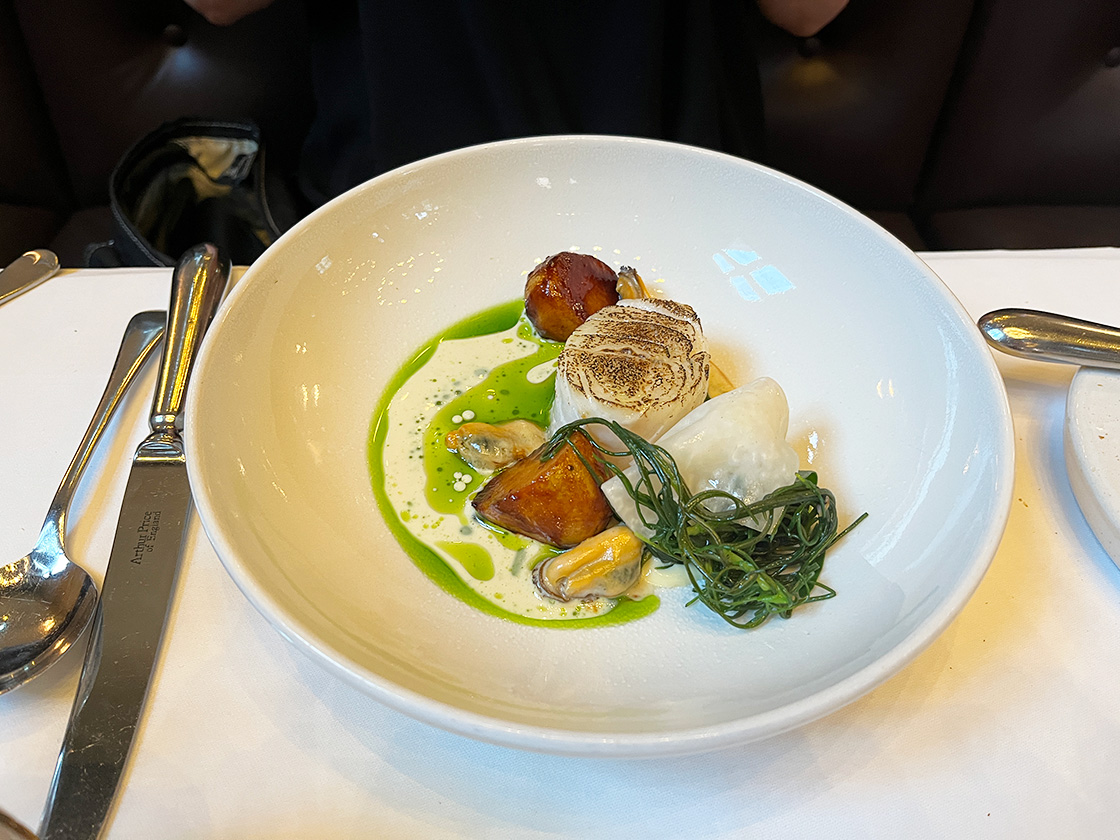 It was nice to finally use the gift bought for us by our friends over two years ago.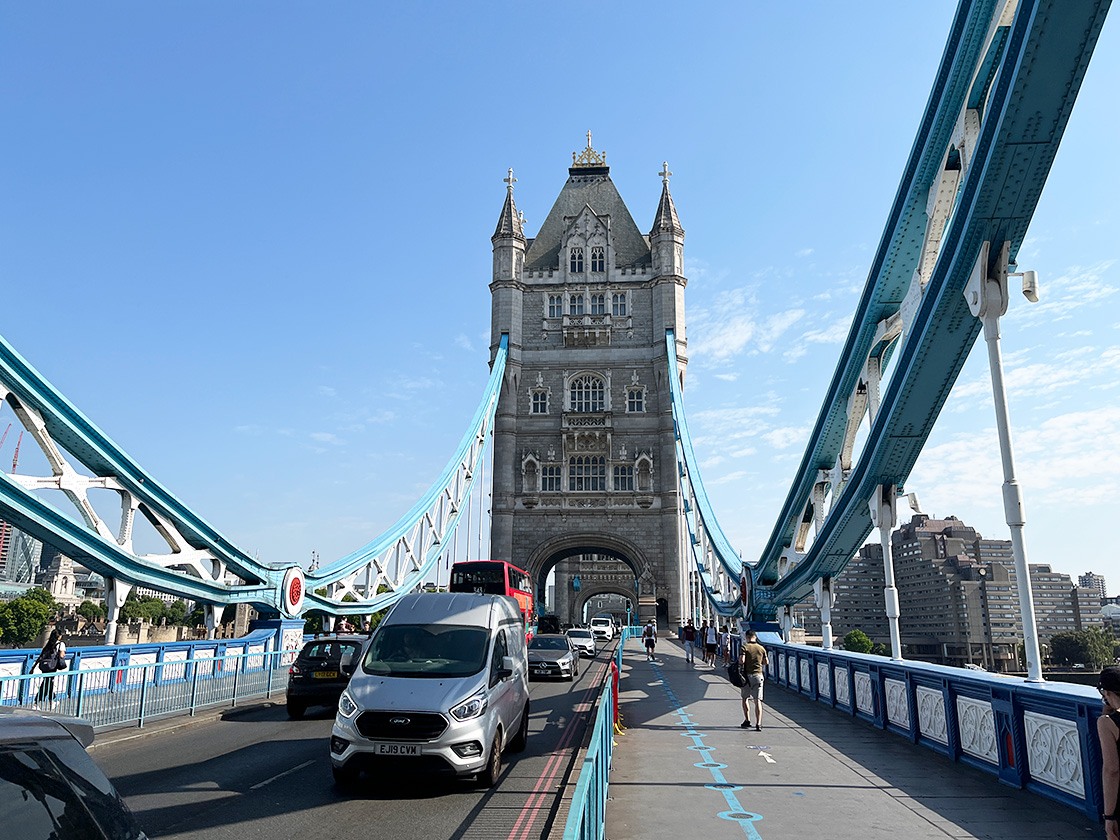 We were staying a total of three days the second of which we spent sightseeing, or at least sightseeing as much as we could in a temperature expected to reach 39°C at its peak.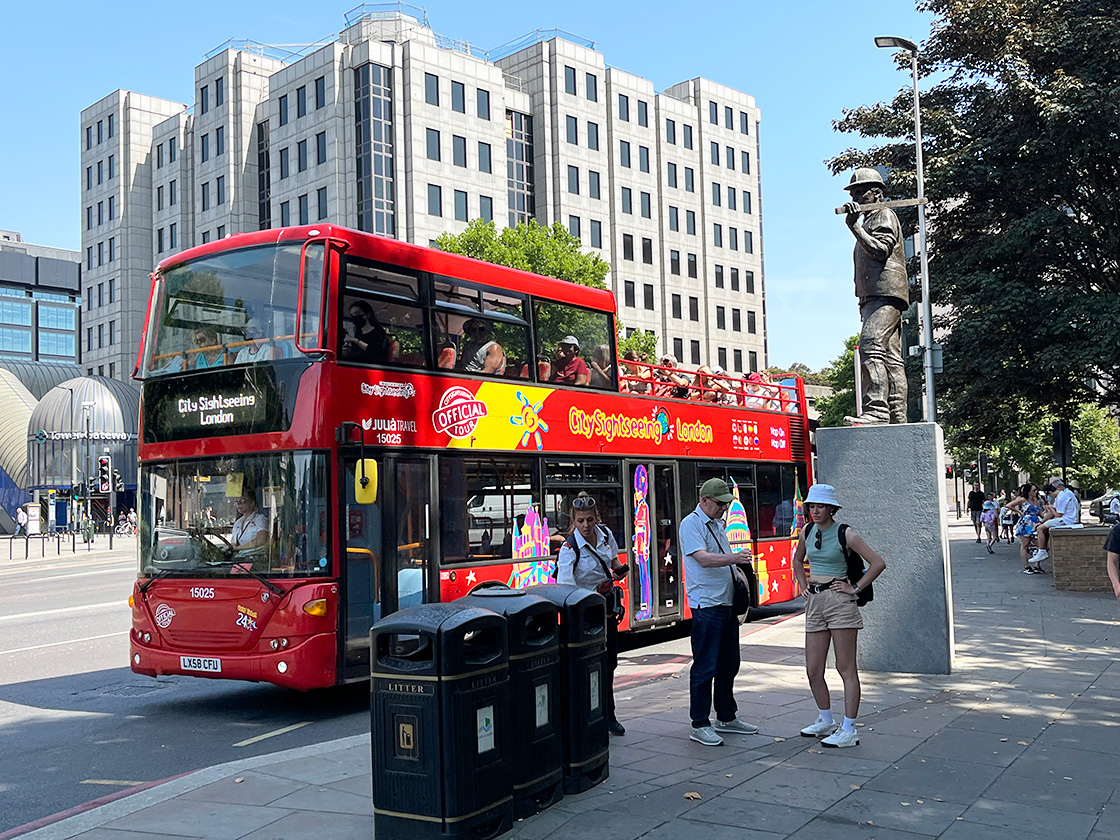 To make things a little more comfortable we decided to make use of our old favourite, the air conditioned hop on hop off bus tour.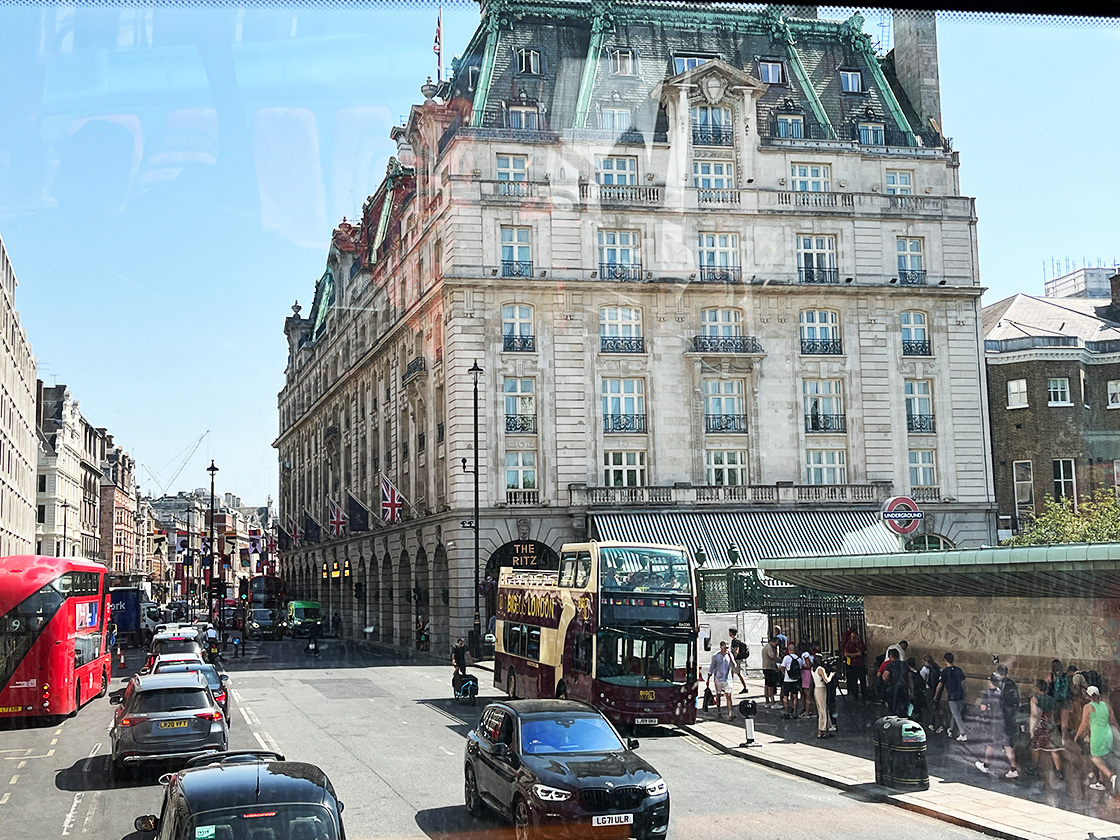 As we tend to do we did an entire lap of the tour before deciding where we wanted to stop and look around. This being London that lap took over two hours to complete. When we got back to the starting point we decided to make use of the Thames boat trip included in the price of our bus ticket, thinking it would be cooler on the water.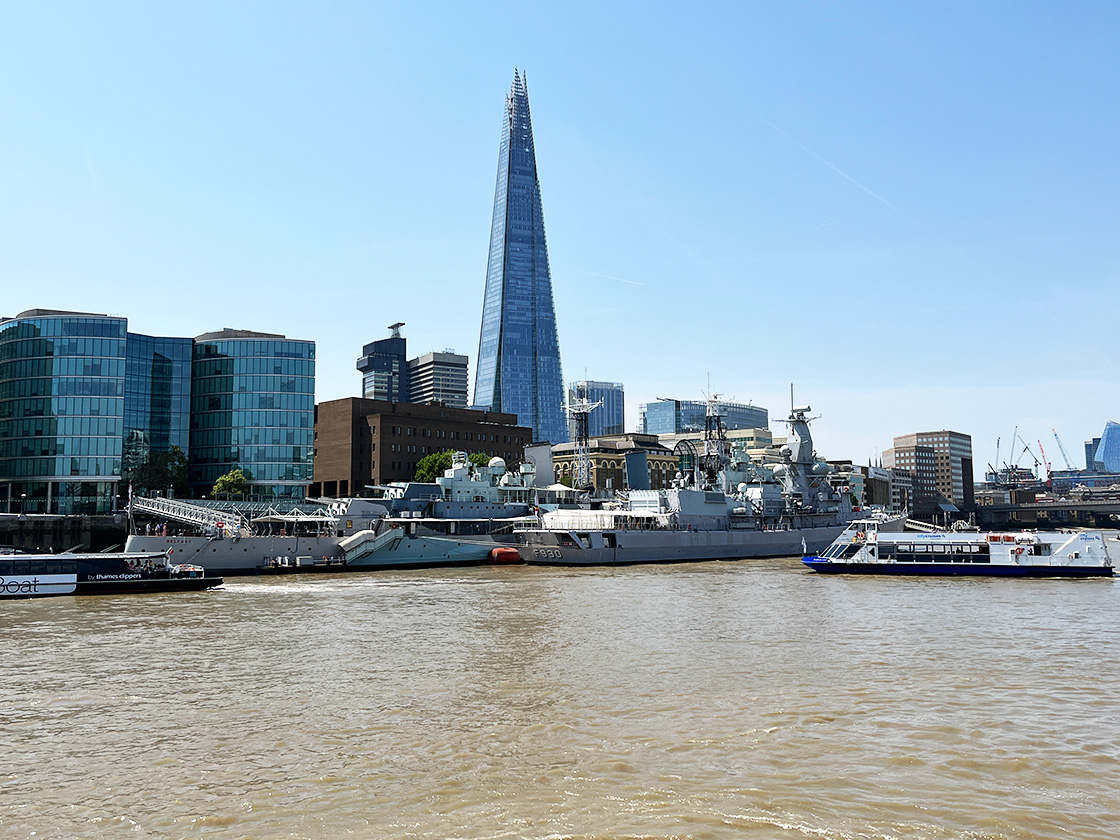 It was but mainly because the boat was air conditioned too.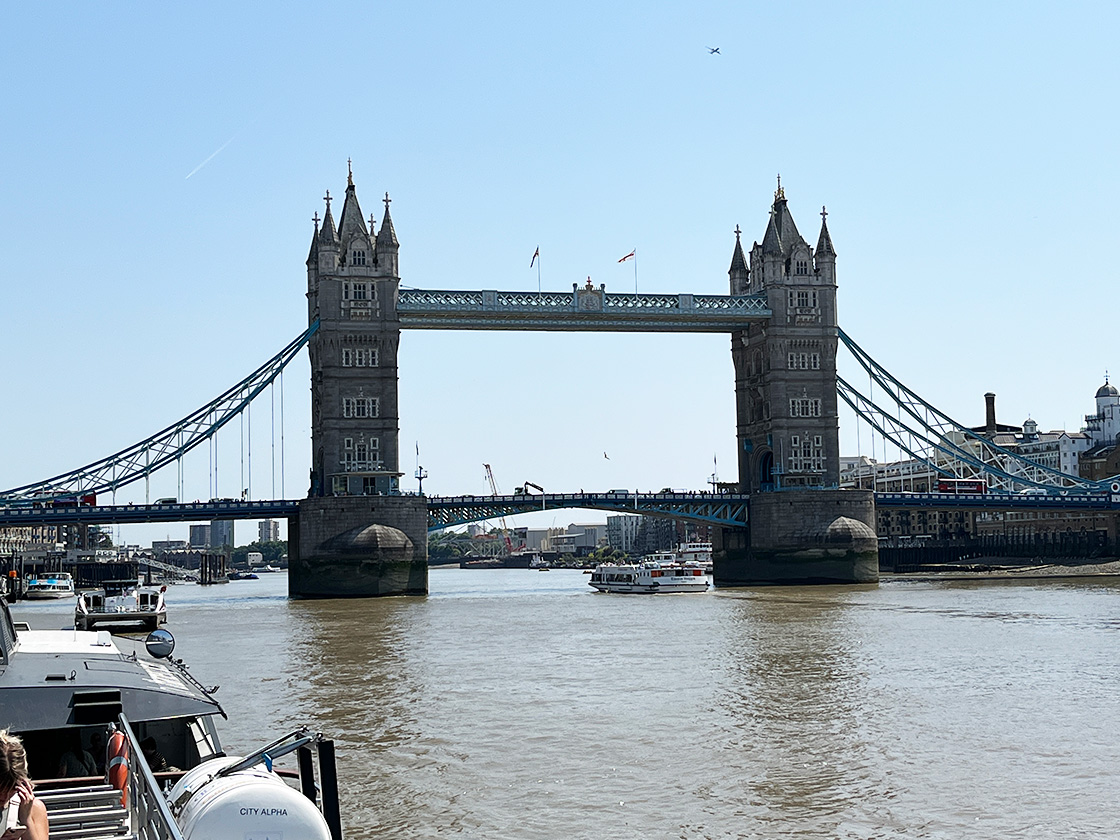 That boat moored near Tower Bridge, on the opposite side to the Shard, went as far as Westminster Bridge before turning round and coming back.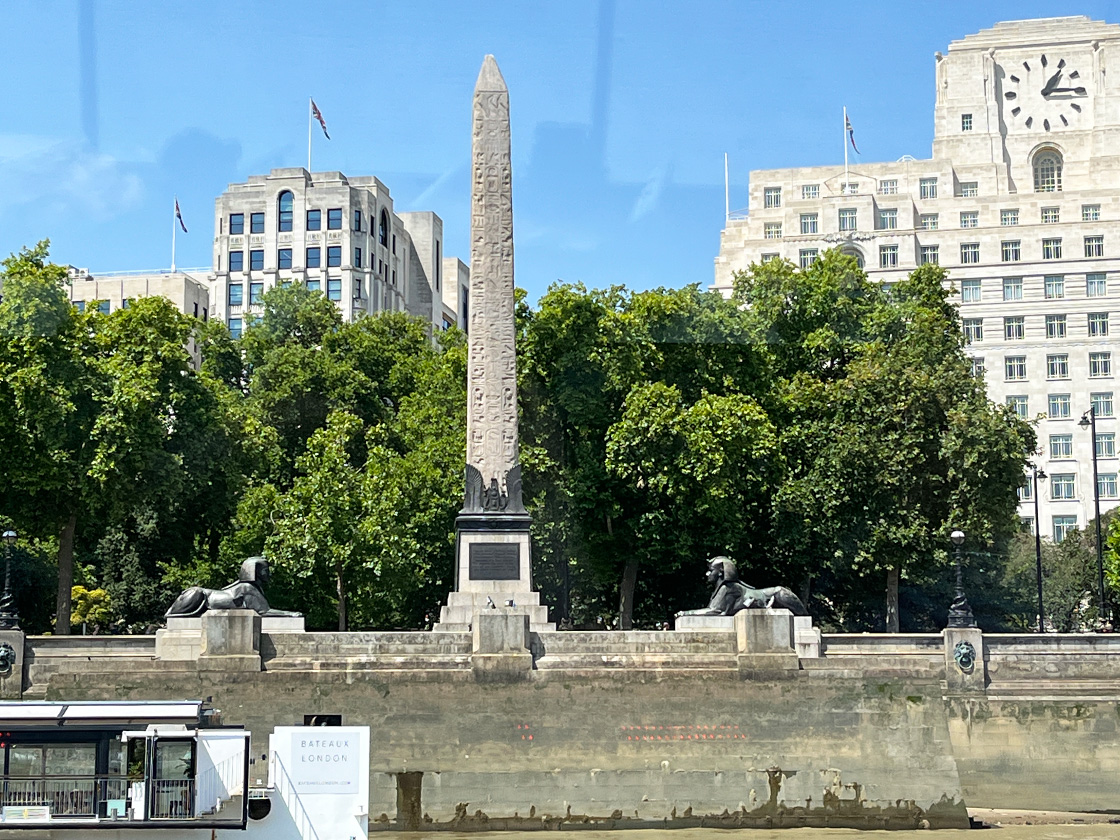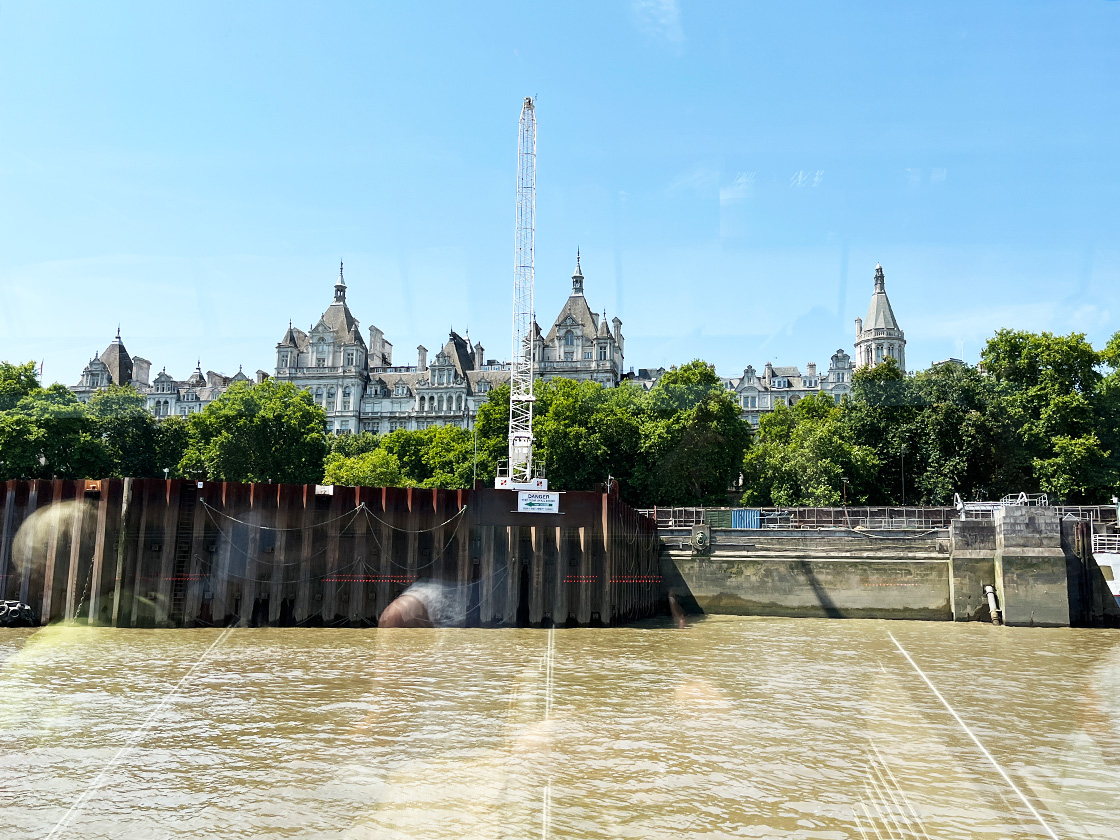 On the trip we bobbed past Cleopatra's Needle, originally erected in the Egyptian city of Heliopolis sometime around 1450 BC and one a pair given to London in 1877 (The other being given to New York City 4 years later), and the Royal Horseguards hotel were we stayed when we came to London with the Moults.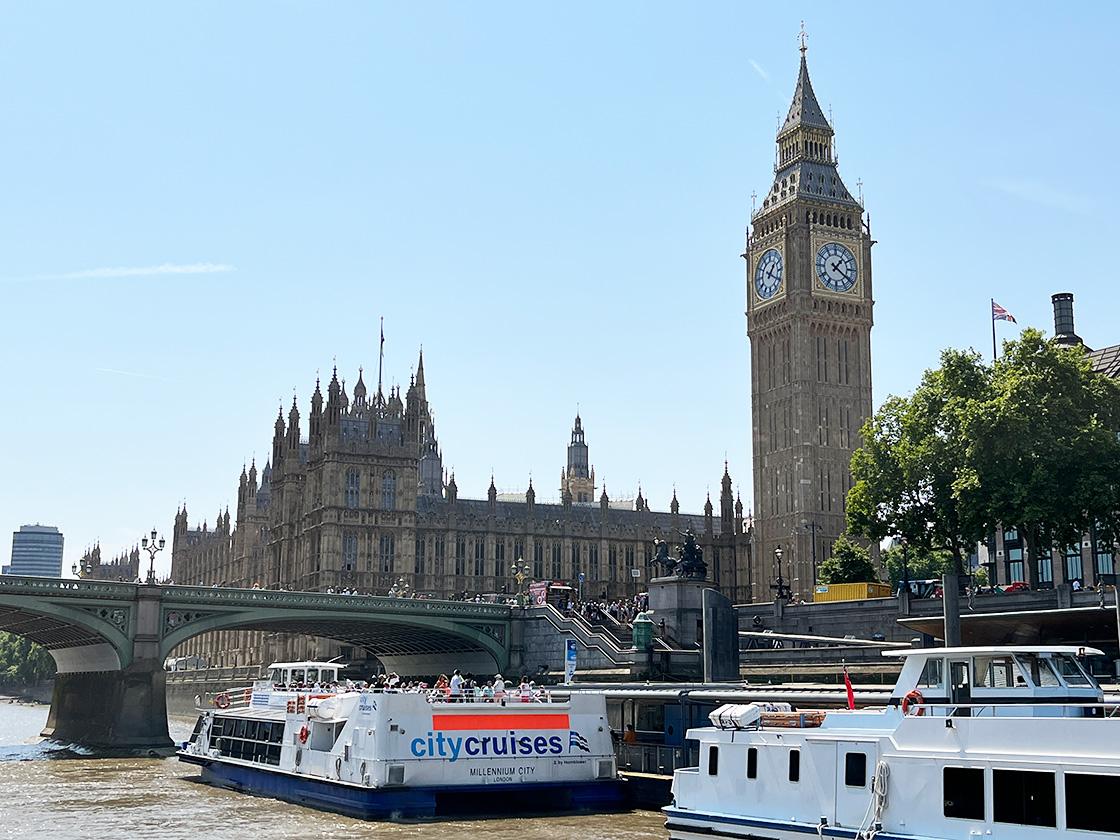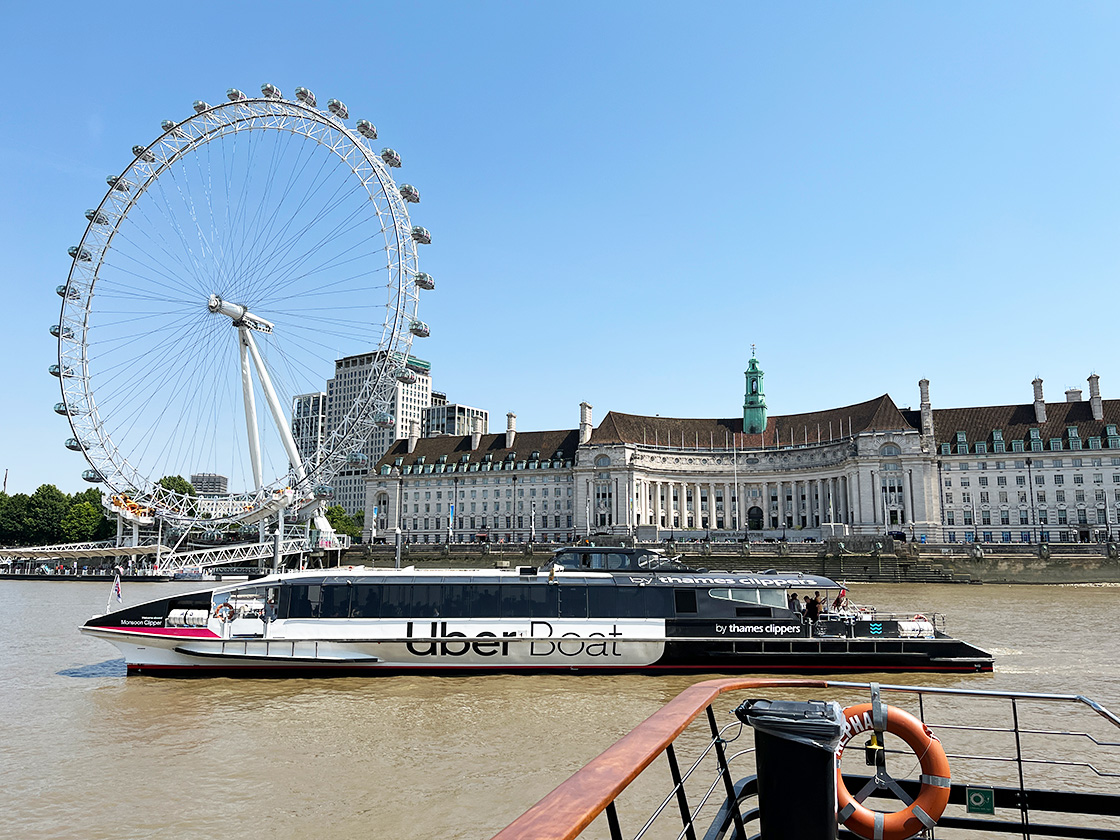 We got off the boat at Westminster Bridge and as it was getting hotter and hotter headed to the shade of Parliament Square Gardens.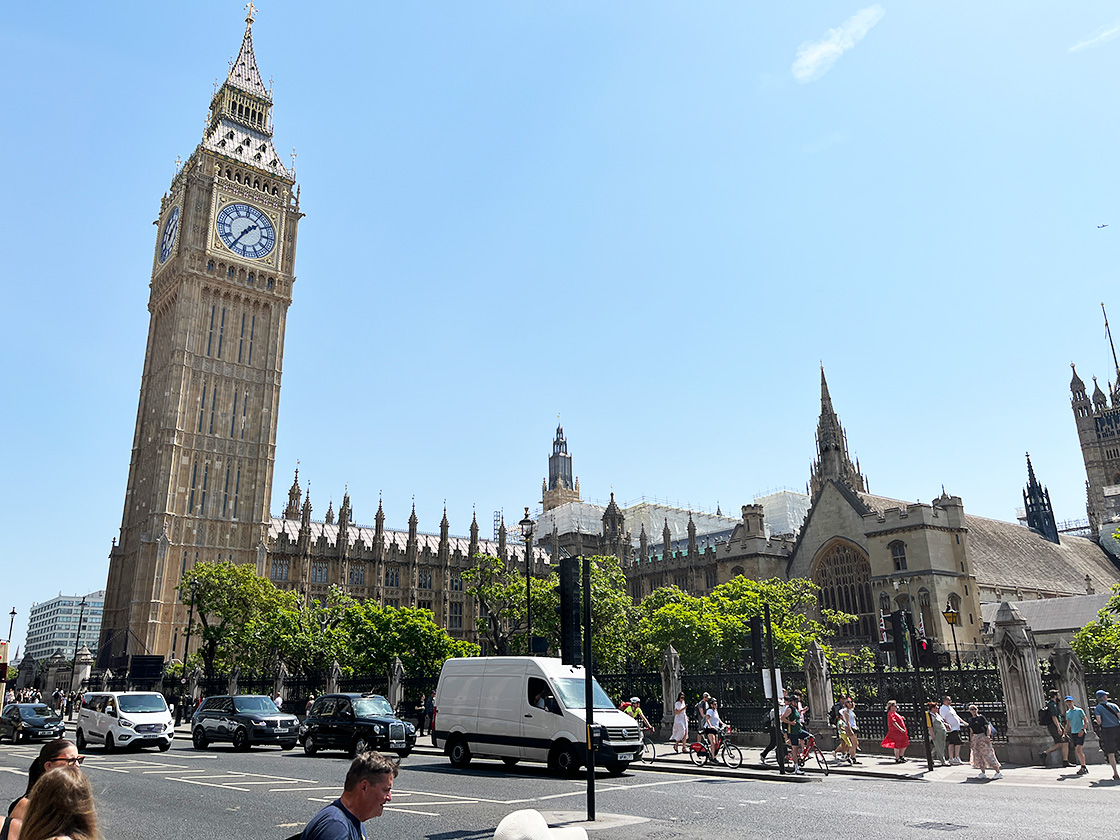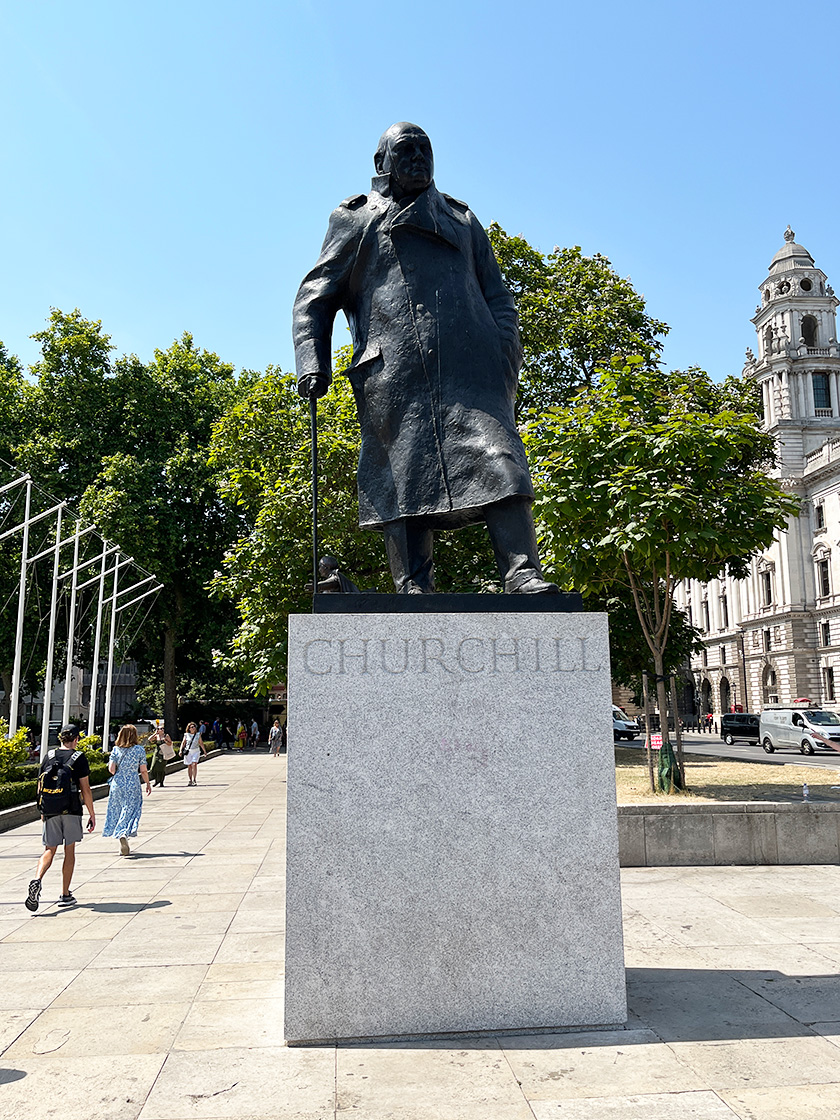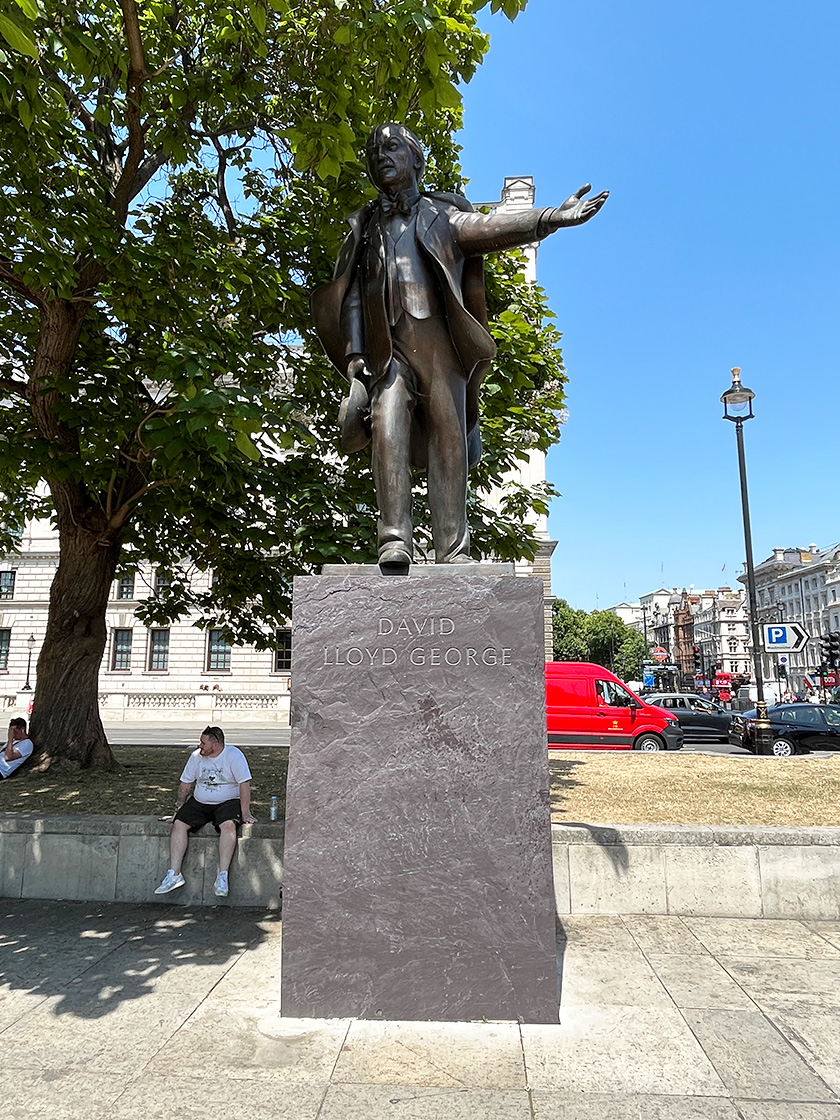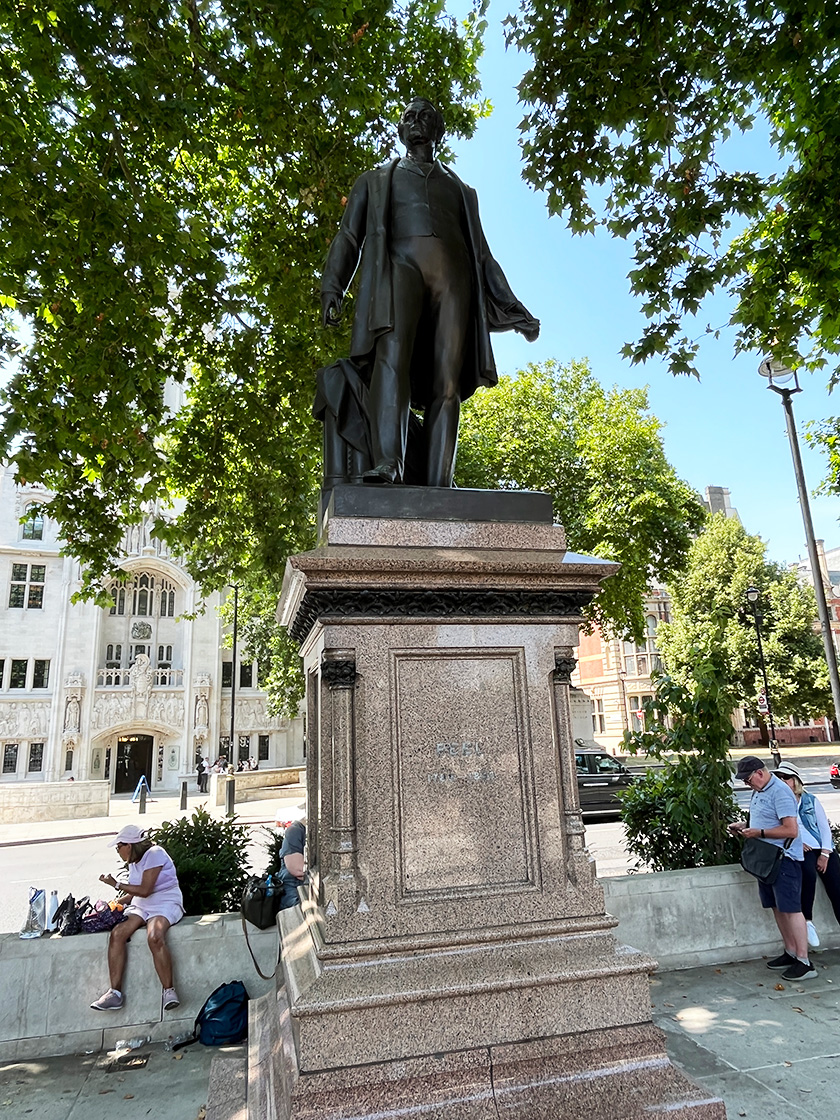 Those gardens contains a lot of statues. It's probably not a surprise to see they featured influential people, mainly former Prime Ministers, from days gone by considering it's just across the road was the Houses of Parliament.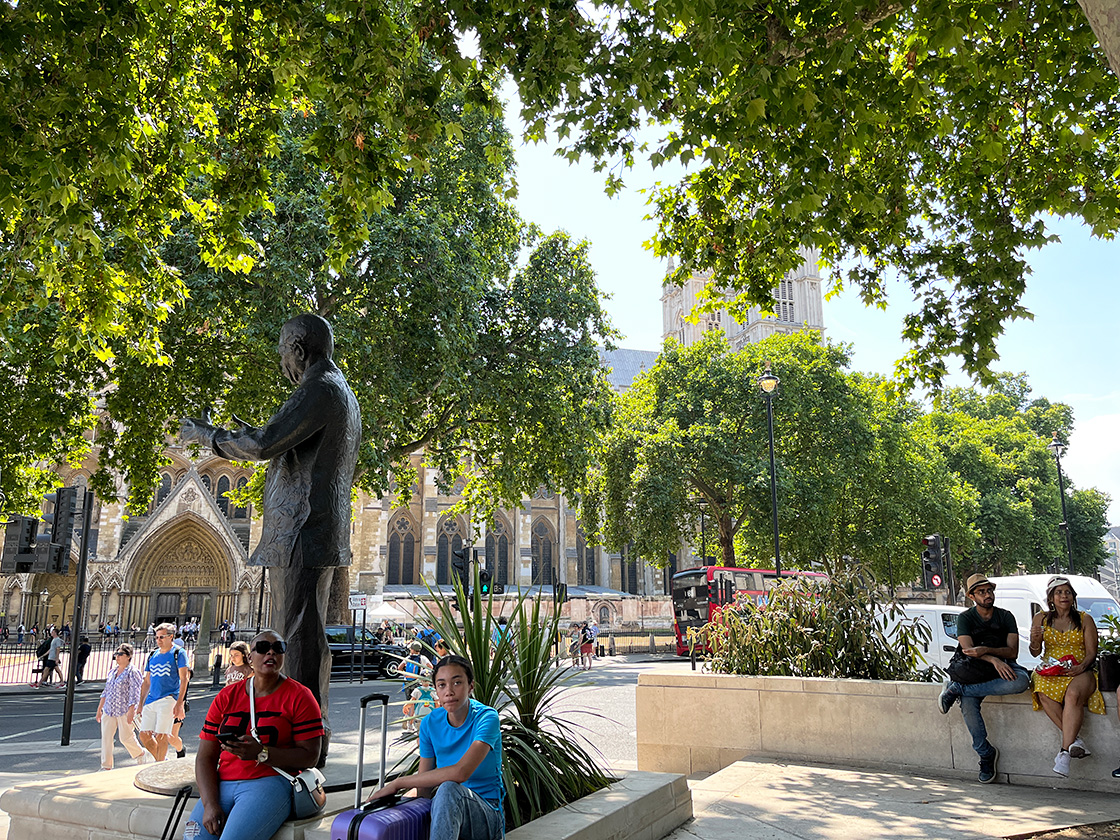 We stayed here a while resting in the shade of the trees looking across at Westminster Abbey before heading off to our next destination.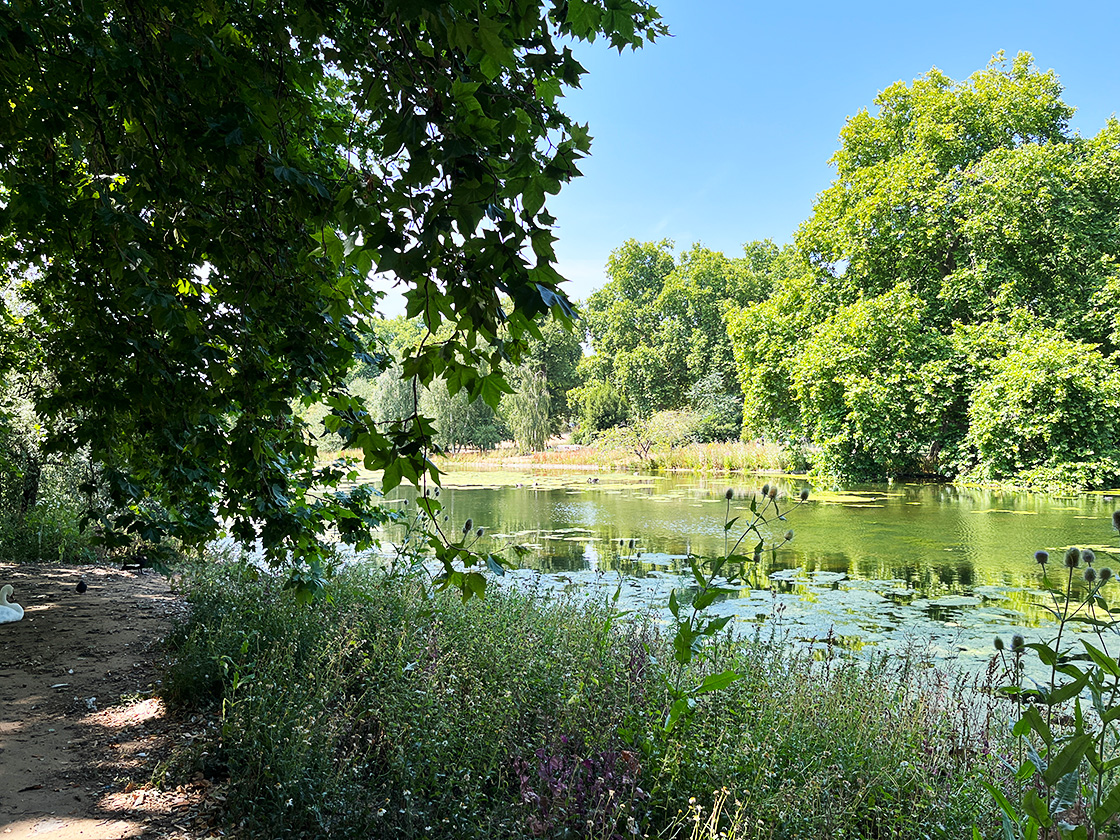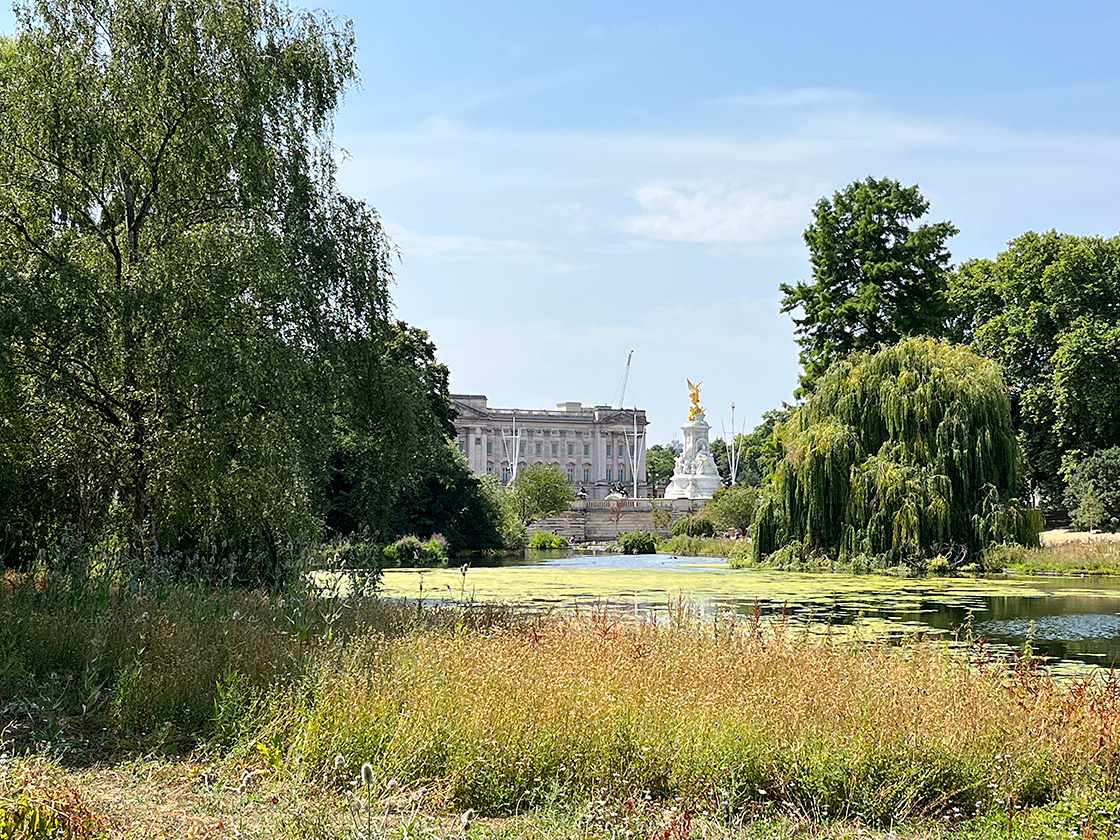 Our walk through St James's park was a bit of a random one as we tried to stay in the shade of the trees as much as possible. Eventually we made it through to the other side to see Buckingham Palace.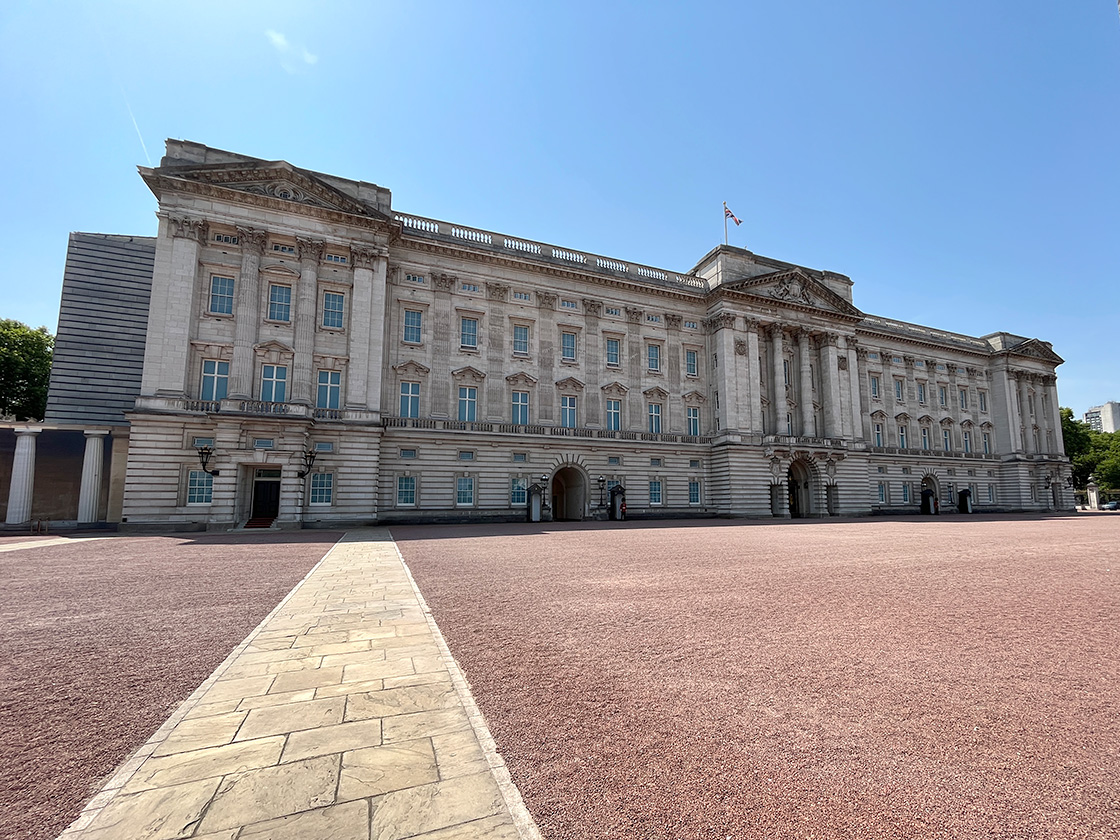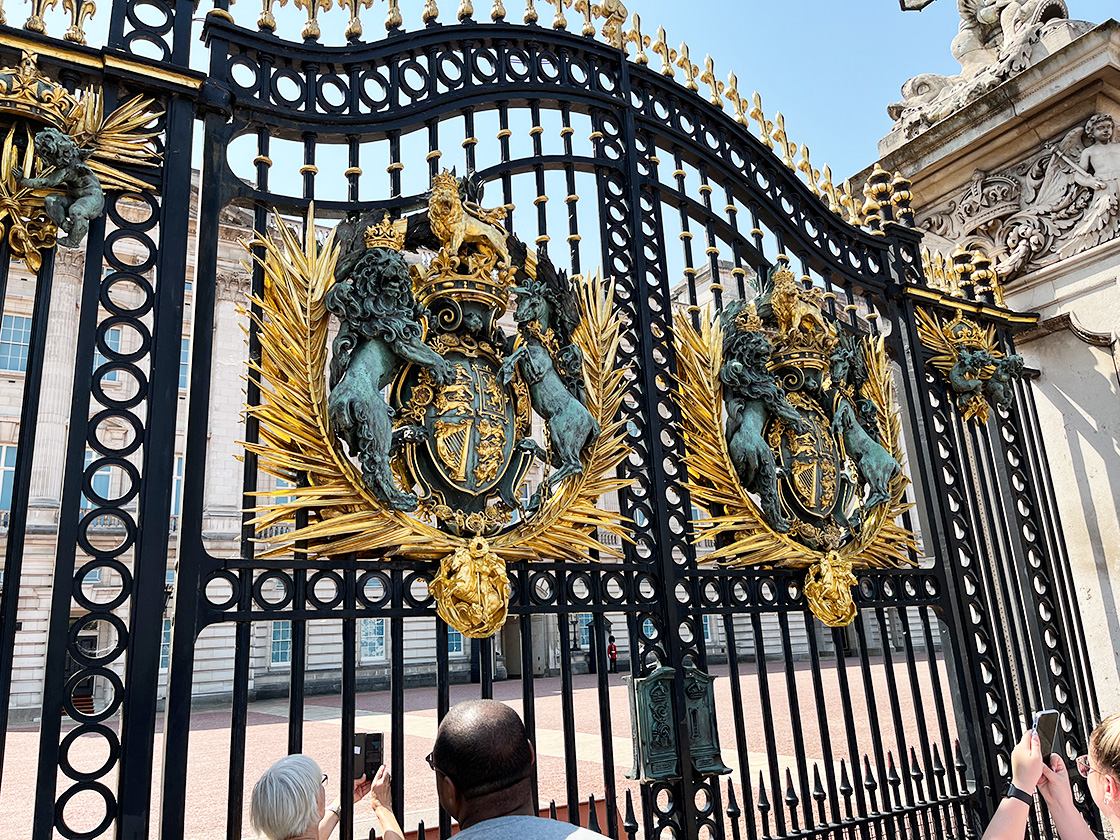 By this time it was 2pm and here there was nowhere to hide from the strength of the sun.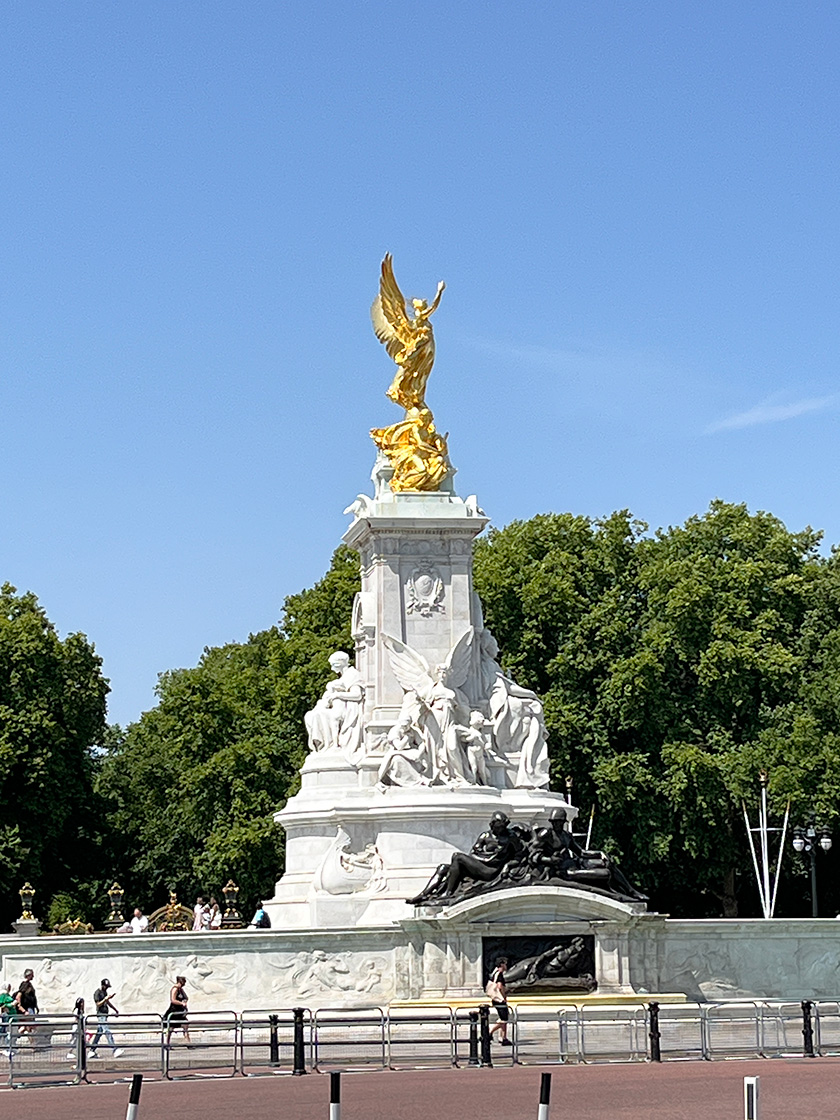 Because of that we didn't stay long but even in this heat the guys in the Queens Guard were still wearing their traditional red uniform and distinctive busby hats.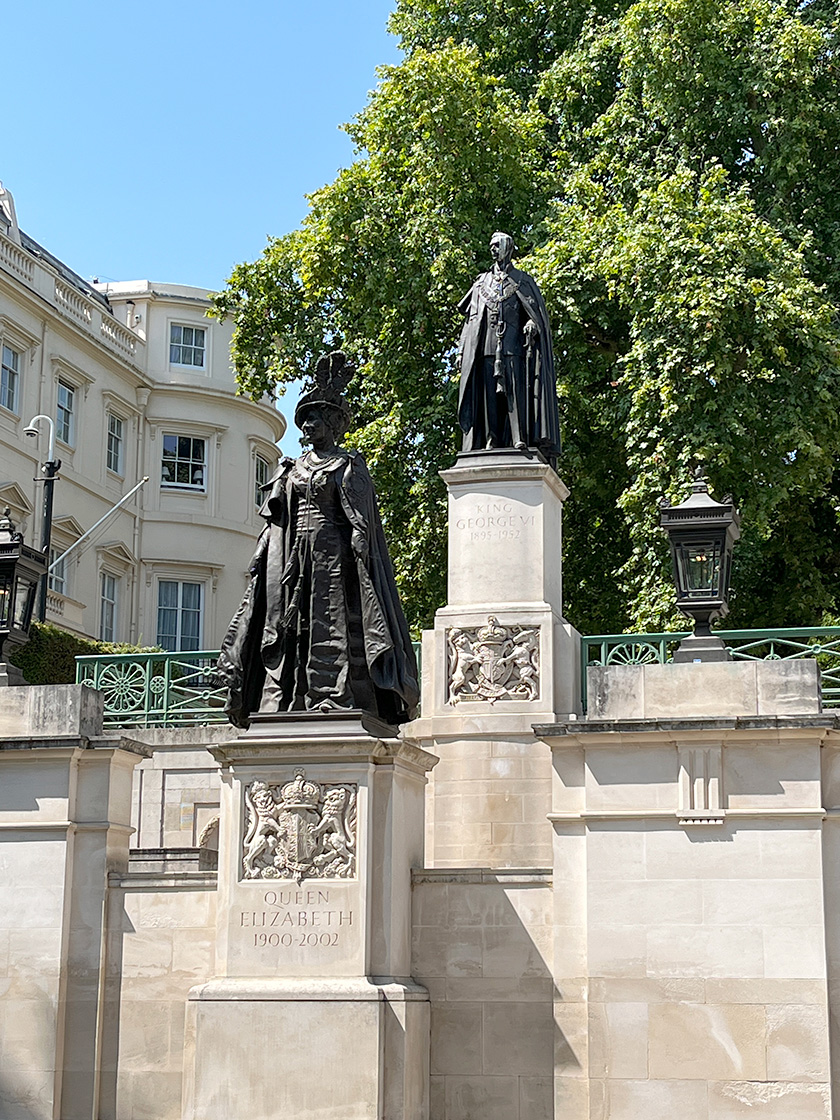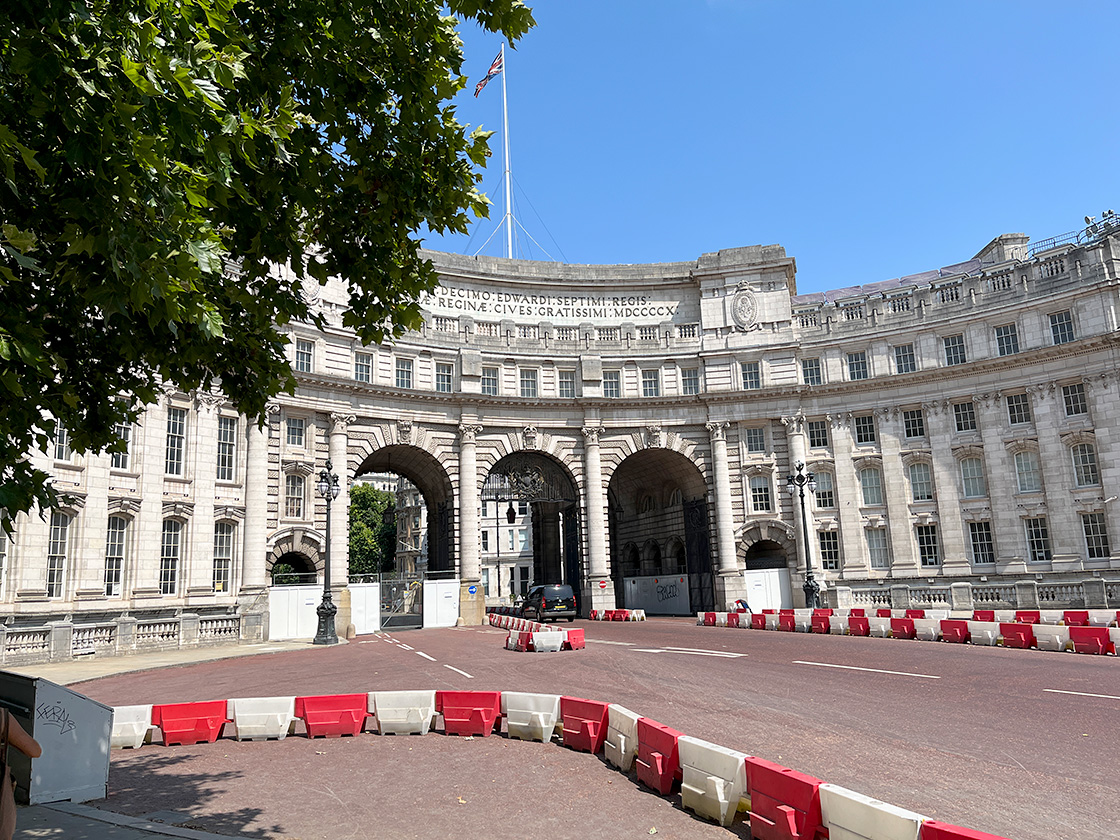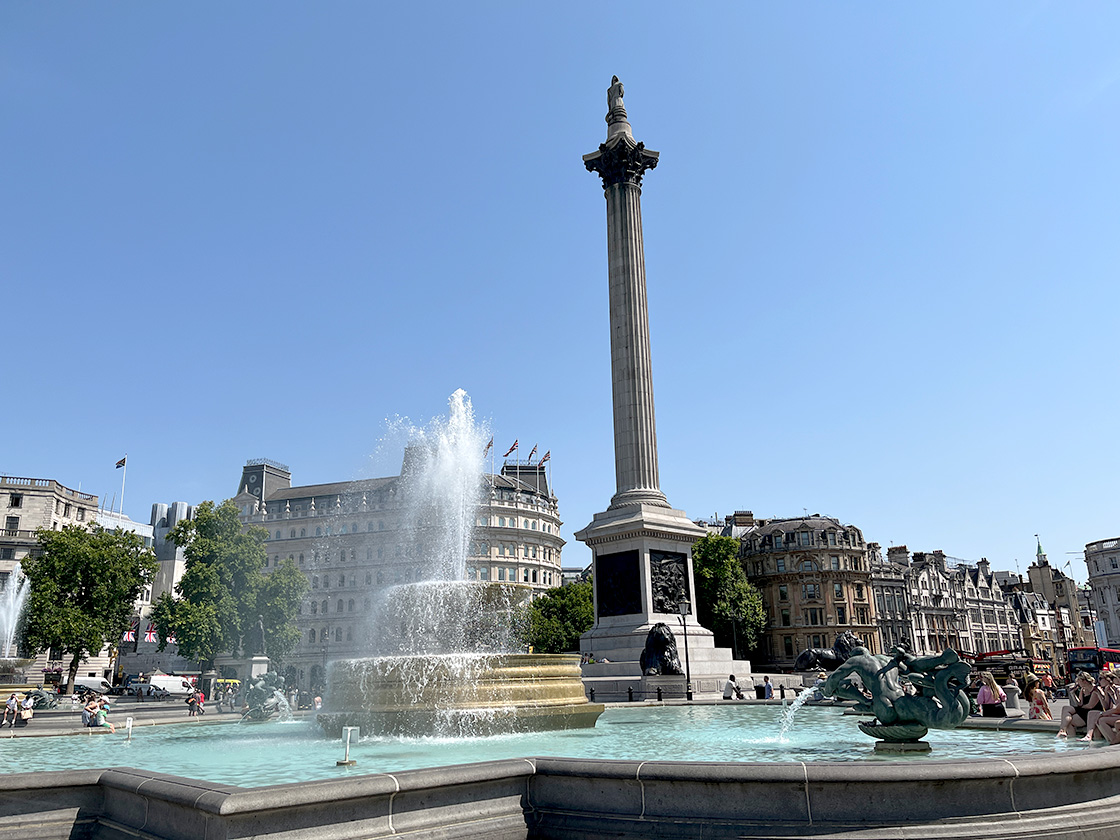 Still walking in the shade of the trees as much as possible we headed down the Mall back towards Admiral Arch and on to Trafalgar Square.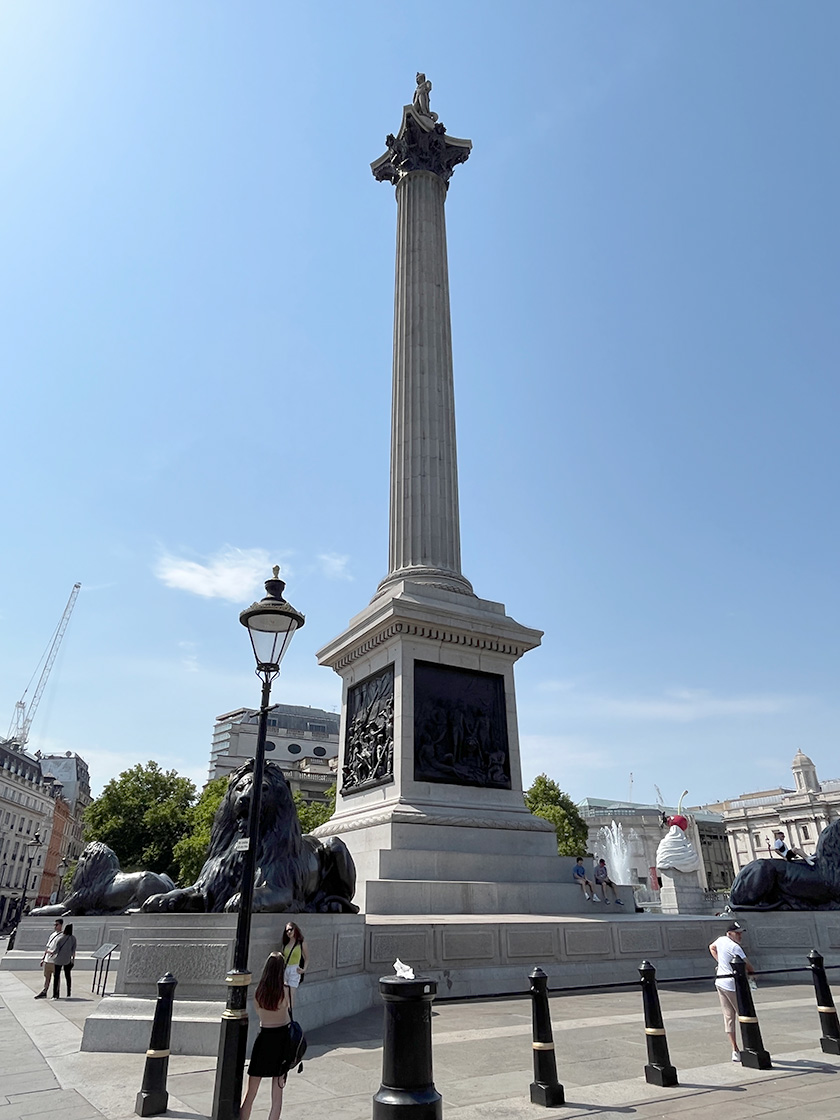 Trafalgar Square is famously home to Nelson's Column. Built in 1839 to commemorate Vice-Admiral Horatio Nelson's victory at the Battle of Trafalgar where he defeated the combined French and Spanish navies though it did cost him his life doing it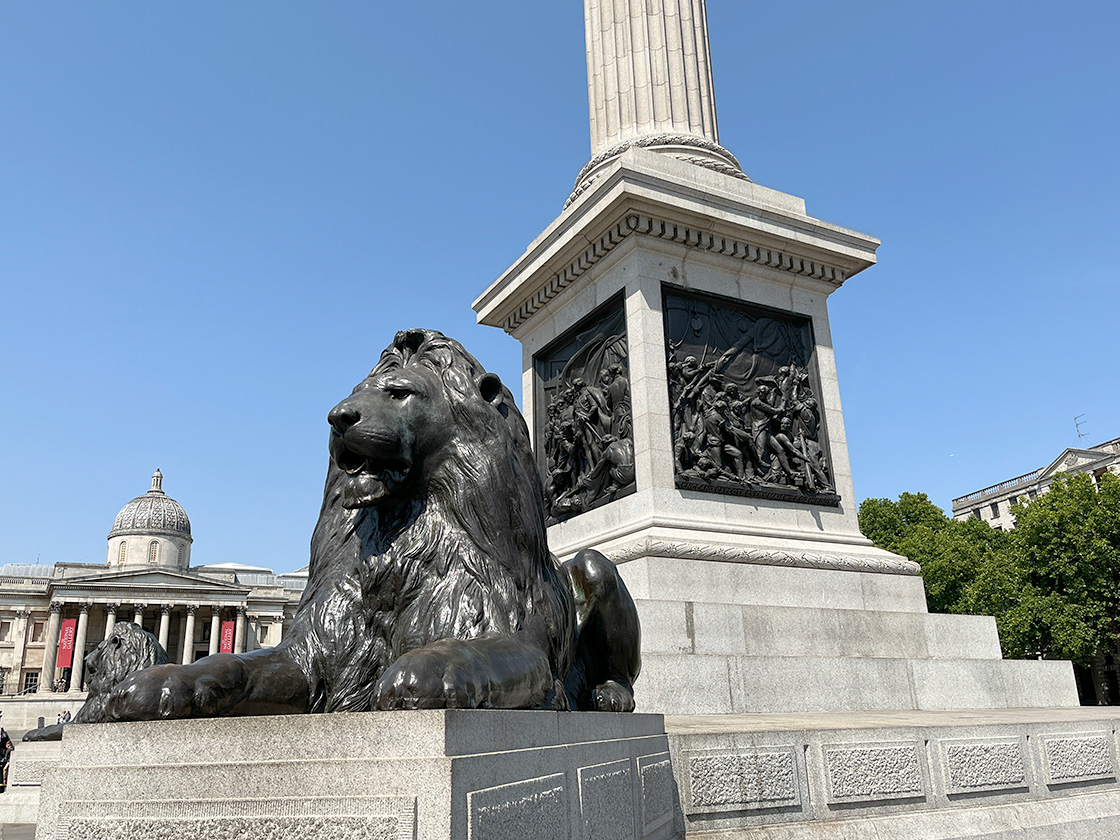 What I hadn't realised is the lions were added later. They didn't arrive until 1867, delayed by years of discussions and debates about waht they should look like and who should make them.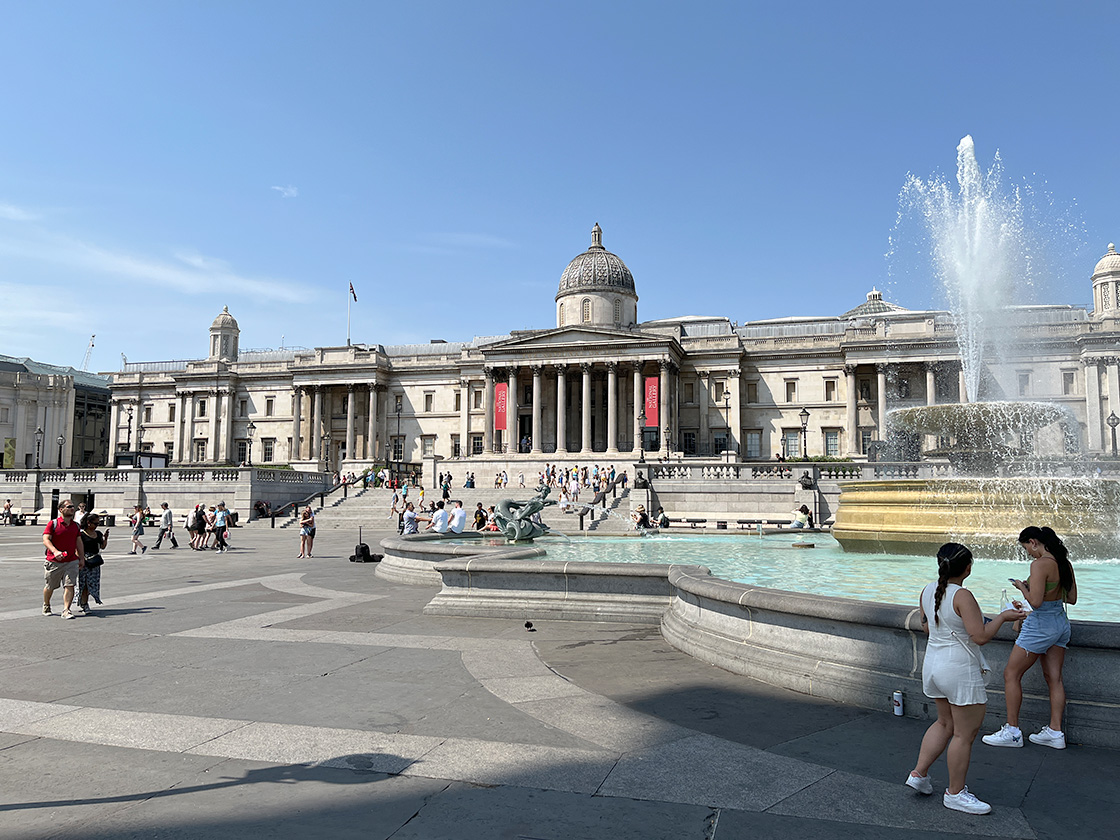 Nelson and his lions aren't the only statues here. Trafalgar Square has four statue plinths, three of them populated by sculptures of historical figures. The fourth, on the northwest edge of the square, is different.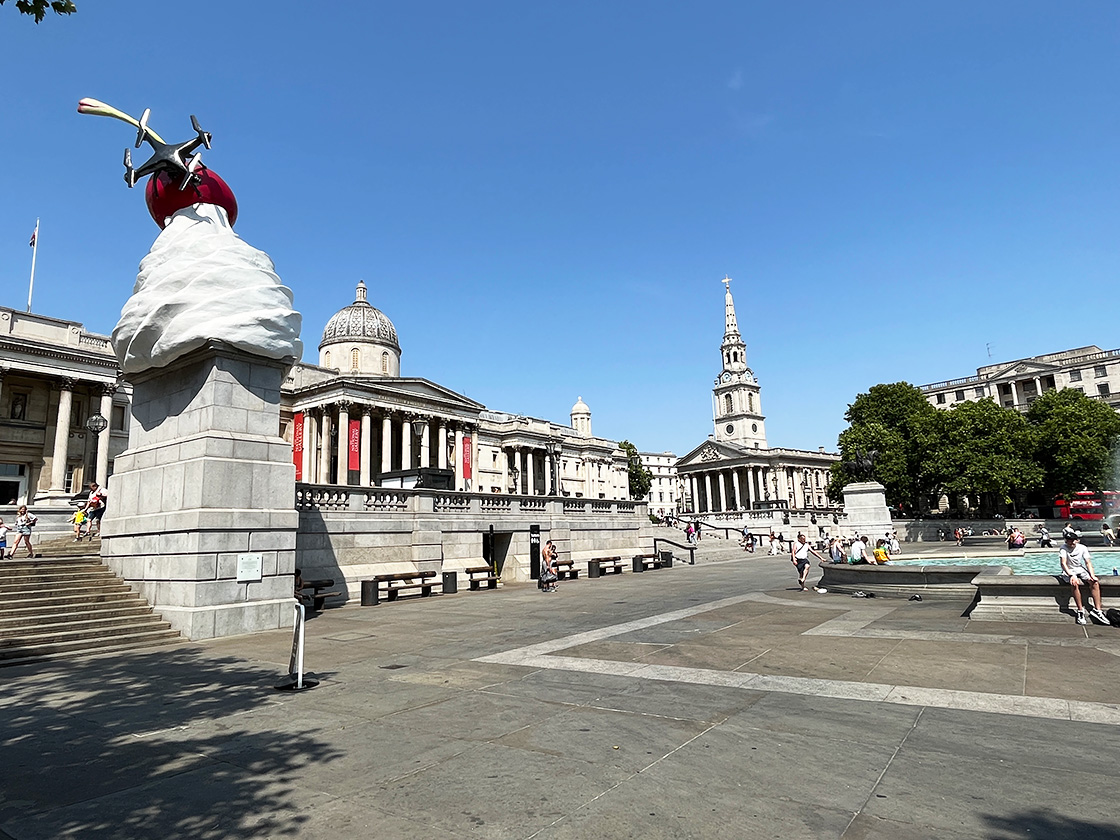 Originally it was to be the site of a statue of King William IV but financial troubles meant it never got built. It remained empty for the next 150 years till, in 1998, it was decided the plinth should be home to an ever changing display of contemporary art. Right now its home to a giant ice cream complete with cherry and a drone.
Trafalgar Square marked the end of our sightseeing as we headed back the air conditioned luxury of our hotel to get out of the sun before going out later to a local restaurant for a meal.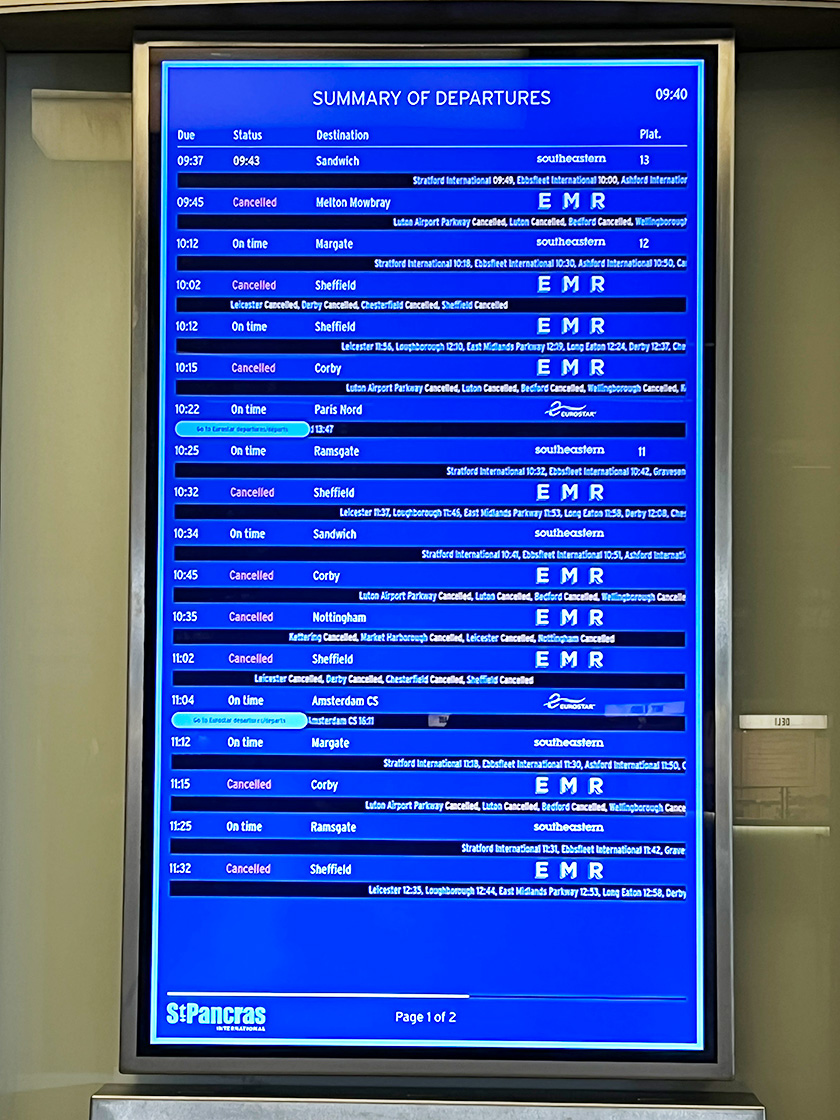 Our third and final day was all about getting home. Even at 7:30am it was already extremely hot and would go on to reach 40°C, the hottest day ever recorded in the UK.
However the train operators had other ideas about us leaving the Capital. They cancelled all trains out of London without providing any alternative transportation or having any staff around to help the thousands of people now stranded in St Pancras. Poor!
Thankfully we did managed to get back on the Megabus leaving London's Victoria Coach Station arriving in Derby only 1 hour slower than the train would have took. I said before when we had train problems coming back from Liverpool that would be last time. Clearly that wasn't but this is! If we need to go to London again we'll go on the bus.